Zhanjiang foreign trade rises 7% in January and February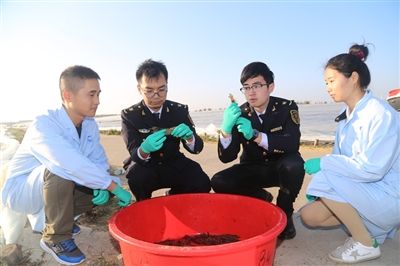 Officials of the Zhanjiang Entry-Exit Inspection and Quarantine Bureau examine local aquatic products to ensure food safety. [Photo/Zhanjiang Daily]
Zhanjiang recorded an import-export volume of 4.46 billion yuan ($706.7 million) in January and February, up 7.4 percent year-on-year, according to statistics from the Zhanjiang Customs.
Export value has increased by 5.1 percent to 2.54 billion yuan, with the United States, Association of Southeast Asian Nations and European Union being Zhanjiang's major export markets. The turnover with these regions was 500 million yuan, 310 million yuan and 270 million yuan respectively.
Meanwhile, the import value has grown by 10.6 percent to 1.92 billion yuan. Brazil, Australia and the US were the city's three largest importers, registering a trade volume of 530 million yuan, 340 million yuan and 340 million yuan respectively over the past two months.
General trade remained the major form of Zhanjiang foreign trade, which amounted to 3.78 billion yuan, 84.8 percent of the total. Processing trade came second with a share of 8 percent.
State-owned enterprises (SOE) have narrowed the gap with private enterprises in foreign trade with a staggering growth rate of 22.9 percent. SOE import-export value reached 1.36 billion in the first two months of this year, accounting for 30.4 percent of the total.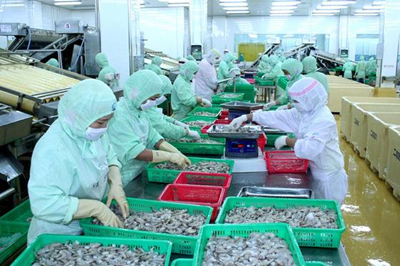 Employees process aquatic products in a Zhanjiang export enterprise. [Photo/Zhanjiang Daily]
With the resilience of global economy, Zhanjiang's aquatic export value increased by 39.5 percent to 750 million yuan in January and February. Export of paper and iron ore also witnessed a steady growth due to the increased market price and huge demand from large-scale enterprises.
Although heavy fog shrouded the city during the Spring Festival period, staff members of Zhanjiang Customs worked overtime to help enterprises handle clearance procedures. In collaboration with the port authorities, they came to the boats personally for examination so as to save time and minimize the impact of terrible weather.