Jianxin: a town that defines agricultural leisure and rural tourism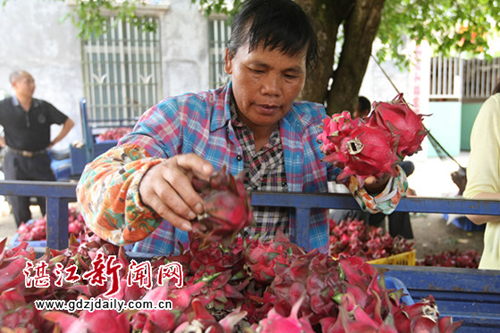 A merchant loads the truck with dragon fruits for sale. [Photo/gdzjdaily.com.cn]
Jianxin town in Suixi county, Zhanjiang, was listed among the 11 candidates to be designated as Guangdong Leisure Agriculture and Rural Tourism Demonstration Units for innovation in technologies and management methods that have been applied to its dragon fruit plantation bases.
Covering an area of 400 mu (26.7 hectares), the plantation bases are equipped with an integrated irrigation system which applies water, fertilizer and insecticide to the fields automatically. Farmers just need to press the button on the control panel for it to operate.
Meanwhile, the dragon fruit fields are capped with weed control membranes to inhibit the weed growth and help the soil retain moisture. These innovative technologies not only save labor costs, but also double the output of lands from some 1,500 kilos per mu to around 3,000.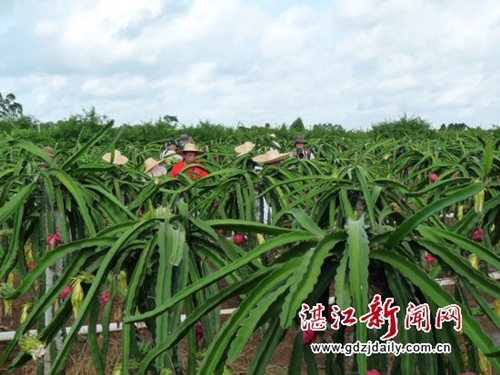 Farmers harvest dragon fruit at the fields. [Photo/gdzjdaily.com.cn]
As for the mode of operation, the town has adopted an enterprise-cooperative-farmer partnership to lift impoverished residents out of poverty.The cooperative was established by Guangdong Meichen Bioscience Technology, with 422 residents each taking out 10,000 yuan ($1,579.5 yuan) to buy shares. Every year, these farmers will receive 810 yuan as bonuses.
The enterprise will also consider them as the first choice when looking for long-term and temporary employees. Each farmer is likely to make 3,000 yuan in revenue annually for every single mu of dragon fruit.
Up next, Jianxin will utilize its close proximity to the Zhanjiang West (High-speed) Railway Station and promote a sightseeing travel route which runs through the Suer Ancient Town, Chengyue River, dragon fruit plantation base, and the Houcheng and Houtan reservoirs.
In supplementation of the tour route, fruit picking activities, bed-and-breakfast lodgings as well as farmhouse treats will also be arranged to prolong the industrial chain and enhance attraction.