High-caliber experts plan next move for Zhanjiang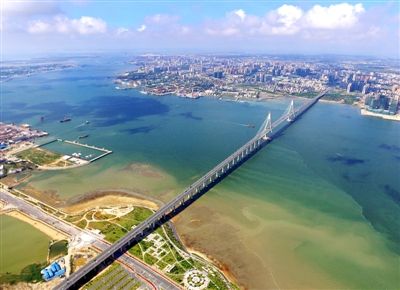 Zhanjiang will develop marine economy based on its geographical advantages. [Photo/Zhanjiang Daily]
A team of prestigious ministry officials, experts and university professors accompanied by Party secretary Zheng Renhao recently inspected Zhanjiang for the purpose of plotting urban development strategies in the new era.
Heading the lineup were Bai Jinfu, president of China Economic Research Institute and Chen Wenling, chief economist of China Center for International Economic Exchanges.
Upon arrival, the team members first toured the Zhanjiang Urban Planning Exhibition Hall, Zhanjiang Port and Baosteel Zhanjiang to get a better understanding of the city's current situation as well as future layouts.
Later at the symposium, the experts spoke highly of Zhanjiang's achievements in implementing strategies of opening-up reform and going global. They asserted that the city is supposed to focus on its core advantages and seek long-term development in a bigger picture.
To be specific, Zhanjiang's geographical location along the southern coastline of China has bestowed it with unique opportunities. The city should seize the chance to develop its marine economy, while integrating itself into the Guangdong-Hong Kong-Macao Greater Bay Area and Qiongzhou Straits Economic Belt.
Zheng expressed gratitude for the tailored and forward-looking urban development layout proposed by the experts. He pledged that these new business modes and strategies will be included to the city's programmatic document and put into practice in the new round of urban development.