Zhanjiang-ASEAN Agriculture Fair to kick off in June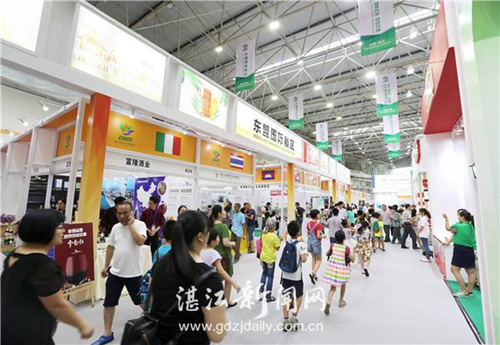 Customers bustle around the exhibition area of the 2017 Zhanjiang-ASEAN Agriculture Fair. [Photo/gdzjdaily.com.cn]
More than 300 enterprises have already signed up for the 2018 Zhanjiang-ASEAN Agriculture Fair, while about 100 exhibitors and buyers from 16 countries have shown keen interest.
A promotional conference for the event was held in Zhanjiang on March 9, with nearly 200 foreign and domestic representatives from agriculture enterprises, cooperatives, research institutions and news media attending.
Founded in 2016, the annual Zhanjiang-ASEAN Agriculture Fair is a platform for agricultural cooperation and exchanges between China and the Association of Southeast Asian Nations (ASEAN).
This year's fair is scheduled to take place from June 8 to 10, with Zhanjiang International Convention Center as its major exhibition area. Products like rice, oil, tea, vegetables and fruits will each have their own display zones.
Simultaneously the Leizhou Modern Agricultural Core Demonstration Area, Nanguo Flower Sci-tech Park and Lianjiang Leisure Agricultural Base, will exhibit cutting-edge technologies, new breeds and root carvings. Rural sightseeing, farmhouse treats as well as fresh fruits will also be among the offerings.
During the three-day event, a series of match-making conferences, promotional activities and signing ceremonies will be scheduled to create business opportunities for local enterprises. Renowned experts and e-commerce elites will convene in the forums to discuss new modes of agricultural development.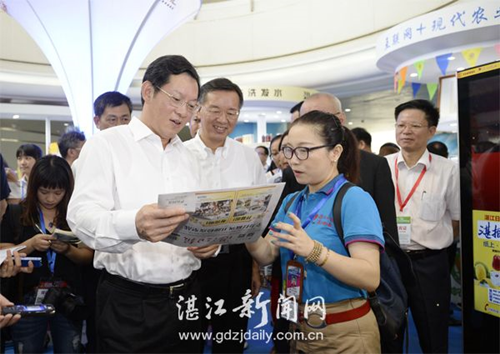 A delegation headed by Party secretary Zheng Renhao (L1) and Mayor Jiang Jianjun (L2) tours the exhibition hall. [Photo/gdzjdaily.com.cn]