Zhanjiang hi-tech zone receives national promotion
Zhanjiang Economic and Technological Development Zone is promoted to national level by the State Council. [Photo/zetdz.gov.cn]
Zhanjiang Economic and Technological Development Zone was promoted to national level by the State Council this year, announced the city's Science and Technology Bureau recently.
This is an honor only granted to areas with a high density of hi-tech enterprises and substantial amount of foreign investment. The zone must also be a leader in the industrialization of advanced technologies while having cultivated a strong atmosphere in innovation and entrepreneurship.
The Zhanjiang Economic and Technological Development Zone was founded in October 2010 upon the approval of the Guangdong provincial government. It started construction in accordance with national standards in May 2011.
Eyeing to be a pioneer within hi-tech industries, the zone has fully implemented innovation-driven development strategy over the past eight years. In 2017 alone, 54 hi-tech enterprises were registered to the zone, bringing the total to 133.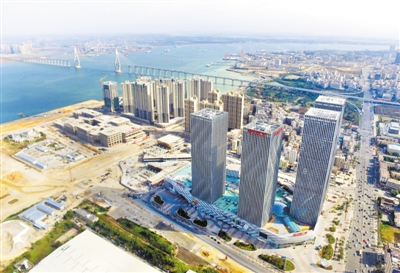 An aerial shot of the booming Zhanjiang Economic and Technological Development Zone. [Photo/Zhanjiang Daily]
This promotion will trigger deeper changes inside the zone, as the most apparent one will be its size. According to the planned layout, the zone's area will be be expanded to 15.02 kilometers and divided into three parts in relation to industry, tourism and commerce respectively.
Meanwhile, the State Council has been strict with its future land use by focusing on reasonability, intensity and efficiency. This means that most of the areas will be used for industrial purposes instead of real estate development.
Most importantly, the zone's goal is to become a key carrier of technological progress and self-dependent innovation, a driving force of industrial transformation and upgrading, as well as bridgehead in global hi-tech industries, said the State Council.