Zhanjiang annual aquatic exports reach $840 million
The Zhanjiang Entry-Exit Inspection and Quarantine Bureau announced on Jan 2 that the city's import and export value of aquatic products grew by 16.6 and 17.4 percent respectively in 2017 to reach $910 million on aggregate.
A total of 137,000 tons of aquatic goods valued at $840 million were exported last year, while imports were amounted to 11,000 tons with a value of $70 million.
Tilapia mossambica sales increased by 10.9 percent to make it Zhanjiang's most popular aquatic export of the year, with 74,000 tons shipped overall. Meanwhile, $560 million of shrimp was exported, making it most popular good by category.
The United States, who was Zhanjiang's largest export partner in 2017, purchased 60,000 tons of aquatics at a value of $560 million. US trade accounted for 50 percent of Zhanjiang's total export value.
The aquatic industry has always been a foundational pillar for the city's economic development. Local authorities have also decided to assist the burgeoning industry by streamlining the customs process and lowering the sampling rates.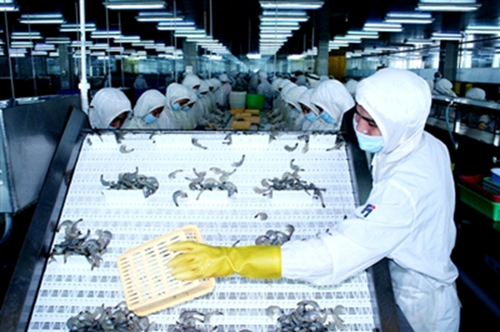 Employees of a Zhanjiang aquatic product enterprise are processing shrimp. [Photo by Mai Wenwei/Zhanjiang Evening News]