Yuekai Machinery clinches sweet deal with Ethiopian enterprise
A 100-million-yuan ($15.2 million) deal has been secured by Guangdong Yuekai Machinery Co Ltd, to supply production tools for OMO5, an Ethiopian enterprise engaged in sugar manufacturing.
A delegation from OMO5 visited the company on Dec 19 to examine its machinery products. Fekde Sime Me Gra, chief of OMO5's Engineering Department, remarked on their high-quality.
According to him, the delegation has investigated seven companies, and Zhanjiang-based Yuekai is the only one that can be trusted and exempted from a spot test. He hopes that more cooperation can be achieved when OMO5 opens new sugar refineries.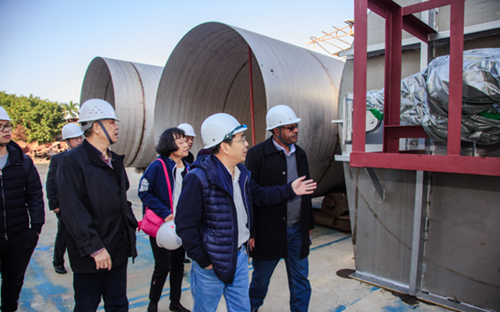 A delegation from OMO5 inspects the company on Dec 19. [Photo by Lin Jiewen/Zhanjiang Daily]
Yuekai is based in Linwu which used to be an impoverished village with a total population of some 2,000. In 1968, the company's predecessor, Wuchuan Linwu Machinery, was established with a start-up capital of 750 yuan funded by local residents.
Most villagers taught themselves machining to qualify for the job at that time. Now, many of them have passed national qualification examinations to become technicians and engineers.
Over the decades, Kaiyue has become a domestically-leading enterprise in manufacturing food processing equipment with its products exported to Thailand, Mali, Vietnam, Pakistan, Iran, Madagascar, Bangladesh, Indonesia and Ethiopia.
At the same time, the village in Wuchuan, a county-level city in Zhanjiang, has lifted itself out of poverty to the point where its local residents earn an annual income of more than 10,000 yuan. It has also been named a National Civilized Village and listed among the Top 10 Charming Villages in China.