Guangdong tea expo concludes in Zhanjiang
The five-day Guangdong (Zhanjiang) Tea Tourism Expo came to an end in Zhanjiang on Dec 18, with more than 130,000 visitors attending and more than 100 million yuan ($15.2 million) in deals agreed.
Hundreds of stands displayed renowned Chinese High Mountain tea, Tie Guanyin, Pu'er, Dragon Well, Biluochun, Maofeng, and Maojian under the categories of oolong tea, black tea, green tea, dark green tea, white tea and yellow tea.
Unlike previous sessions, this year's expo earmarked a particular area for highlighting of its local tea brands including Minghuang tea, Mingshangming, Huahai, Minghe, Laofumao and Huguang tea. A name was made not only for those tea types but also for the tea industry in Zhanjiang as a whole.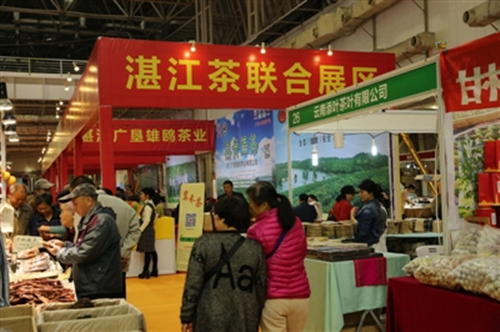 Visitors browse the exhibition areas of the Guangdong (Zhanjiang) Tea Tourism Expo. [Photo by Chen Zhixun/Zhanjiang Daily]
Despite being a late starter, Zhanjiang's tea industry has experienced rapid growth in recent years. Described as "natural", "organic" and "healthy", local tea products are becoming increasingly popular in the domestic market.
The annual expo has been held by the Zhanjiang government eight times since 2009. More and more local tea enterprises have signed up with enthusiasm, bringing the turnover to a new high this year, said Xiao Guangxian, vice president of the Zhanjiang Tea Association.
David Hood from Australia showed a keen interest in the tea and related performances at the expo. Having lived in China for two years, he is fascinated by the county's tea culture and complimented it on its beauty and elegance.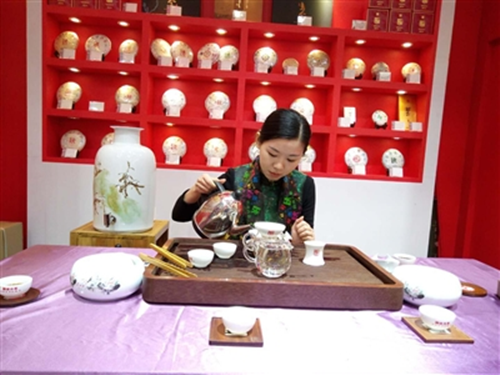 A merchant goes through the tea-making process at the expo. [Photo by Chen Zhixun/Zhanjiang Daily]