Innovation powers Lianjiang household appliance industry
The small household appliance industry in Lianjiang yielded an output of 187 million products from January to October, up 10.3 percent year-on-year. Products from more than 600 local enterprises are sold all over the world and expected to create annual revenue of some 26 billion yuan ($3.9 billion) this year.
Since 2012, Lianjiang has been pushing forward the transformation and upgrading of its small household appliance industry. A special fund was initiated by the local government in 2015 to encourage enterprises to introduce new technologies and carry out technical transformation.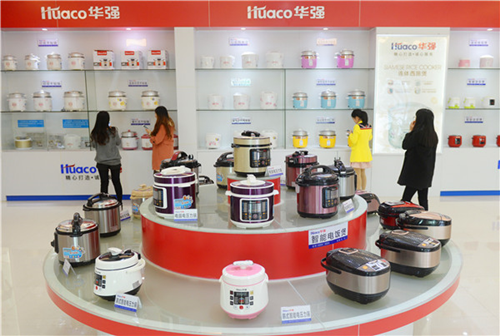 Customers browse the exhibition area of Guangdong Huaco Electric Appliance Group. [Photo by Lang Shuchen/Zhanjiang Daily]
So far, a total of 158 million yuan has been allocated to help local enterprises realize the automation of the production lines. On aggregate, 120 technical renovations were completed and more than 20 small household appliance enterprises have stepped towards intelligent production.
Multi-joint manipulators, or robot workers, are now widely used in many Lianjiang small household appliance enterprises. Once it receives its instructions, the manipulator can quickly pick up the cold-rolled sheet from a workbench and compress it into a layer between the shell and liner of a rice cooker.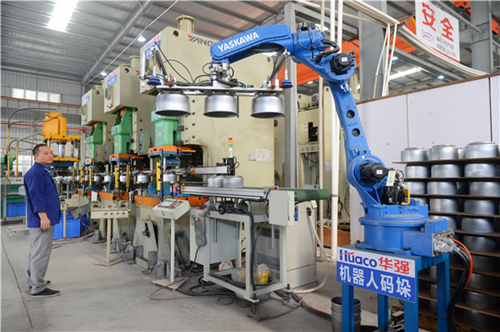 The multi-joint manipulator named Maduo works on the production line at Guangdong Huaco Electric Appliance Group. [Photo by Lang Shuchen/Zhanjiang Daily]
According Lu Xizhang, president of Guangdong Huaco Electric Appliance Group, one multi-joint manipulator can cover at least five people's work, which both increases efficiency and reduces costs for the enterprise. Huaco's output value soared to nearly 1 billion yuan last year.
Apart from technical transformation, Lianjiang enterprises have stepped up in independent research and development. Taking Guangdong Namics Electrical Appliance as an example, the company halted production of all its low-end products in 2013 to focus on developing new ones.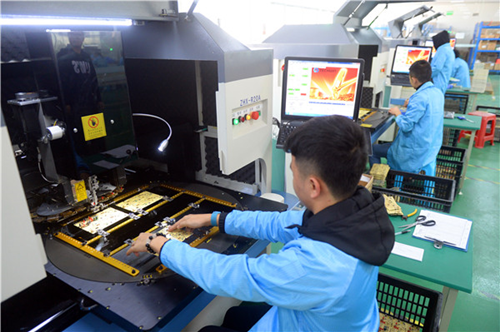 A few employees at Guangdong Namics Electrical Appliance work on developing new products. [Photo by Lang Shuchen/Zhanjiang Daily]
Its self-developed electric kettle received more than 1 million orders within one month after entering the market and clinched deals worth 70 million yuan at a household appliance exhibition held in Zhuhai on Aug 22. In collaboration with a scientific research institution in Shannxi, the company is estimated to make more than 400 million yuan in revenue in 2017.
Five enterprises in Lianjiang were designated as national high-tech enterprises and 10 listed as Guangdong high-tech enterprises in 2016. The output value of local high-tech products reached 8.1 billion yuan last year, a year-on-year increase of 20.6 percent.