Zhanjiang's marine economy shows healthy growth
Zhanjiang has seen rapid development in its marine economy in recent years thanks to its abundant marine resources, favorable location and comprehensive management by local authorities.
It released the Zhanjiang Blue Ocean Comprehensive Development Plan (2017-2020) this year, which provides a reference for the city to develop marine resources in a sustainable way. Under the guidance of related policies, the structure of the marine industry has been optimized and the economic aggregate of Zhanjiang's marine fishery has rapidly grown.
Statistics from the Zhanjiang Ocean and Fishery Bureau show that the city's total output value of marine economy was about 125.85 billion yuan ($19.03 billion) in 2016 and the added value was 65.36 billion yuan, ranking third in Guangdong province. The total output value of the fishery economy was 44.65 billion yuan.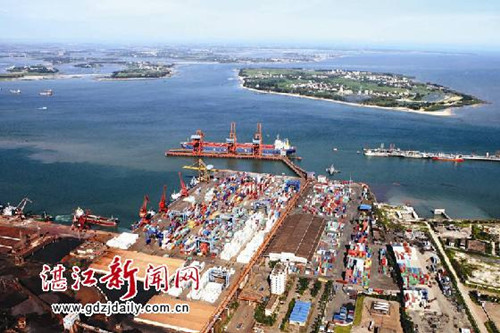 Zhanjiang has seen rapid development in its marine economy in recent years. [Photo/gdzjdaily.com.cn]
The economic indicators of the Zhanjiang fishery have been ranked first in Guangdong for a dozen years. For instance, the city has opened 32 fishing ports with approval of the Ministry of Agriculture and 11,173 fishing vessels have been registered in the China Fishery Administration system, both highest numbers in the province.
Zhanjiang is a major prawn cultivation base ranking first in the country in terms of area, seedlings, output, fodder, processing, export and circulation. The city is also China's biggest offshore cage cultivation base. With more than 1,200 offshore cages, it has created an industrial cluster covering cultivation, fodder, processing and sales of aquatic products. It also has 34 registered enterprises engaged in exporting aquatic products, the most of any city in Guangdong.
Owing to its advanced marine and fishery industries, Zhanjiang has gained a series of honorary titles, such as China Seafood Cuisine City and China Prawn City. It was also designated as a national Food (seafood) Quality Safety Export Demonstration Base, national Nanzhu Product Geographical Indicator and national Marine High-tech Industrial Base.