Training for marine expo volunteers under way
Training sessions for nearly 400 volunteers for the 2017 China Marine Economy Expo got underway at Lingnan Normal University, Zhanjiang on Nov 25.
The team, which consists of standout candidates among the 3,000 people that applied, will be divided into six groups to provide an all-round service covering transport, meeting arrangements and translation services for visitors.
Chen Zhenhua, chairman of Zhanjiang Tourism Investment Group, served as the lecturer to introduce the basics of marine economy, including fishery, bio-pharmaceuticals, transportation, tourism and engineering.
After the group and on-site trainings in the near future, it is expected that all volunteers will serve the expo with their professional knowledge, considerate services and positive mental outlook.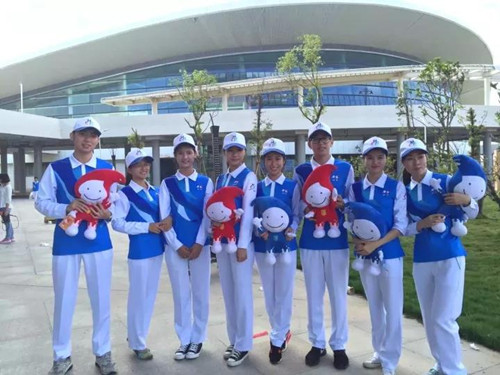 Volunteers for the marine economy expo pose for pictures with the mascot in their hands. [Photo/coeexpo.com]