Zhanjiang selects marine expo volunteers
The selection of volunteers for the 2017 China Marine Economy Expo, which will be held in Zhanjiang from Dec 14 to 17, was launched recently with the first stop being Guangdong Ocean University.
The registration system opened to the public on Oct 16, receiving an enthusiastic response. After a preliminary review of the application forms, there were nearly 3,000 qualified candidates competing for 320 spots.
Stages in the selection process include self-presentation and Q&A, to assess the candidates' concept of volunteer services, mental outlook, abilities to organize and coordinate as well as psychological conditions.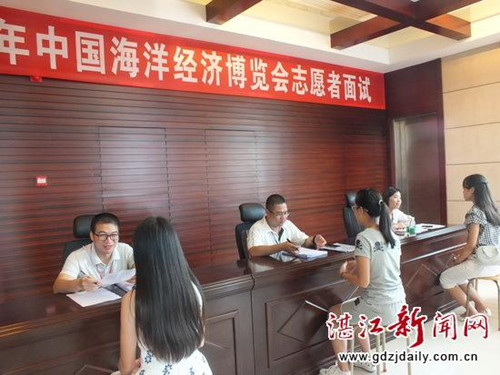 The organizing committee interviews volunteer candidates. [Photo/gdzjdaily.com.cn]
In addition to on-site interviews to be held at Lingnan Normal University and Guangdong Medical University, the organizing committee will conduct online interviews with college students, engineers and teachers from other provinces and cities.
According to a staff member from the committee, the first phase of training will run from Nov 11 to 30, with contents covering the general information of the country, province, city and expo, social intercourse, plus the do's and don'ts during the event.