A melting pot of innovation
By Li Wenfang and Chai Hua(China Daily) Updated: 2017-11-02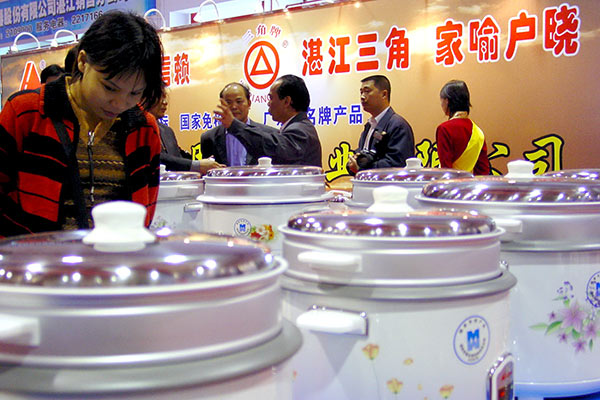 Shoppers look at rice cookers during a promotional event at a supermarket in Zhanjiang, Guangdong province.CHINA NEWS SERVICE
Rice cooker brands in Zhanjiang upgrade product quality, cut costs and boost their global image to meet demand
A culinary makeover is going on at the heart of the global rice cooker capital.
In the coastal city of Zhanjiang in South China's Guangdong province, an array of companies turn out 60 percent of one of the world's favorite kitchen appliances.
But in a move to increase high-end manufacturing, many have rolled out brand-building campaigns as they shift upmarket with a host of new products on a traditional theme.
"We sold more than one million sets of intelligent (digital) rice cookers to Russia last year," said Gu Chuanping, export manager at Guangdong Zhanjiang Household Electric Appliances Industrial Co.
"Rice is not the staple food in Russia, so we have made multi-functional cookers for that market, which can make bread or soup, and even make cakes," Gu added.
Household Electric Appliances is one of the largest rice cooker manufacturers in the city, as well as in China, and its ability to innovate is paying off.
Although costs are slightly higher for this new range of established products, sales figures have been impressive.
"They have gone up by about 25 percent this year," Gu said, without disclosing further detailed financial figures.
Set up in 1976, Household Electric Appliances now employs about 2,000 workers in factories across China and its Triangle brand is one of the most popular in the country.
Key overseas markets for its rice cookers are Southeast Asia, the Middle East, Europe, the United States and South America, according to the company's website.
In Brazil, its market share is more than 30 percent.
"The goal in the next five years is to further explore markets in the Belt and Road economies, especially high-end markets," said Gu.
Last year, Zhanjiang exported electric rice cookers worth 2.26 billion yuan ($340 million). Annual output was around 100 million models.
Southeast Asia has always been a traditional overseas market. But now sales are increasing in Europe and the United States for high-end products.
This in turn has brought challenges for Household Electric Appliances and other Chinese companies as they grapple with upgrading products, while trying to cut production costs at the same time.
Even so, a blueprint to support the industry is gradually taking shape.
"The government plans to transform the sector by promoting the intelligent (high-tech) production line, establishing a platform for design and research, and organizing more marketing events in Europe and the US," said Zhi Haisen, deputy director of Zhanjiang's economic and information bureau.
The local authorities have also pledged to provide manufacturers with subsidies worth 4 million yuan for modernizing production lines.
In addition, European designers and exhibitors plan to promote Zhanjiang's small household appliances, including rice cookers, electric boilers and induction cookers.
During the summer, the city organized trips for companies to Russia and Belarus.
In June, Russian buyers signed contracts worth more than $80 million, an increase of 10 percent compared to 2016.
Belarus companies also entered into initial agreements to purchase Zhanjiang products worth up to $20 million.
Still, one of the key problems facing the city is low brand recognition in the home appliances market.
"Only 30 percent of the products exported are under our own brand names," Gu said.
Most are made for major global companies such as Panasonic Corp of Japan, Tatung Co of the US, Tefal of France and Redmond of Russia.
Deputy Director Zhi pointed out that there are only eight Zhanjiang local brands, including Triangle, Heng Guang, Weking and Hallsmart, while the rest are rolled out for overseas groups.
In a move to change this, the government plans to open up investment from other major domestic household appliances companies.
In July, China's Gree Electric Appliances announced that it would invest 2.2 billion yuan in Zhanjiang.
"In the future, the Zhanjiang (local) government will provide good services for investors so that we can all share the fruit of the city's progress," Zhanjiang Party chief Zheng Renhao told China Daily at the time.