Zhanjiang regulates waterborne transportation
(chinadaily.com.cn) Updated: 2017-10-25
In pursuit of a sound and regulated market, Zhanjiang has been stepping up its efforts to crack down on illegal activities in waterborne transportation since the National Day holiday.
The main targets of the move focus on unregistered motorboats and wooden boats without qualification for operation, especially those engage in the transportation of passengers and dangerous chemicals. These illegal behaviors not only disrupt the market order, but also pose a threat to public safety.
To address the problem, a joint task force sent by Zhanjiang Transport Bureau, Zhanjiang Maritime Safety Administration, Zhanjiang Ocean and Fisheries Administration, Zhanjiang public security frontier detachment and the Guangdong coast guard has tightened its patrol on wharfs, bathing beaches and water sports centers.
On Oct 18 alone, 37 law enforcement officials were dispatched to conduct a four-hour patrol. In the future, a long-term mechanism will be set up in Zhanjiang to stamp out relevant illegal activities.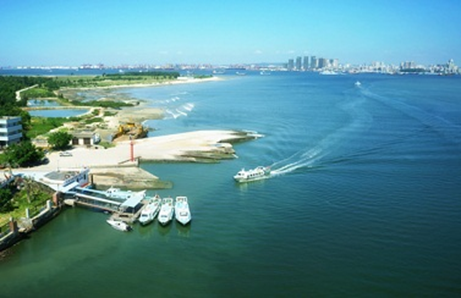 Zhanjiang has been stepping up its efforts to crack down on illegal activities in waterborne transportation since the National Day holiday. [Photo by Lang Shuchen/Zhanjiang Daily]