Zhanjiang athletes sweep 14 medals at Chinese National Games
The 13th Chinese National Games just lowered the curtain on Sept 8 in North China's Tianjin municipality, where Zhanjiang athletes took three gold medals, seven silver medals and four bronze medals.
This year, more than 20,000 participants were seen competing for 534 medals in 52 events. Altogether 44 Zhanjiang athletes made it to the finals, the most in history.
Chen Fulao, 27, helped Guangdong win the the mixed group modern pentathlon, bringing hometown Zhanjiang its first gold medal.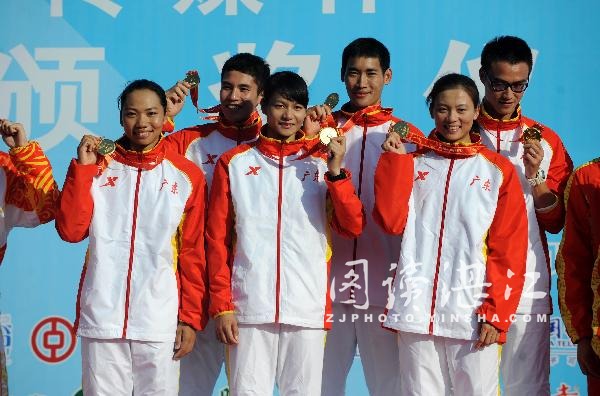 Chen Fulao(fourth from left) and his teammates on the podium at the 13th Chinese National Games in north China's Tianjin municipality. [Photo/yinsha.com]
He Chao, former gold medalist of the World Championship, provided great support for Guangdong in winning five consecutive titles in men's diving with exceptional performance in the synchronized 3m springboard diving.
In the meantime, he edged 2016 Rio Olympic champion Cao Yuan with a score of 544.55 and took the silver medal in men's individual 3m springboard diving.
Chen Qiaozhu, Chen Meiyan and Huang Qiu'e, three athletes nurtured in Zhanjiang, helped the Guangdong team make it to the finals of U18 women's soccer after a 24-year hiatus and took home the silver medal.
Three other silver medals went to Chen Mingling in the under-18 women's basketball and Wu Honghui and Yang Jian in men's water polo.
Zhou Xiaojing, 19, won the bronze medal in the women's 63kg weightlifting final, becoming the first Zhanjiang medalist in weightlifting.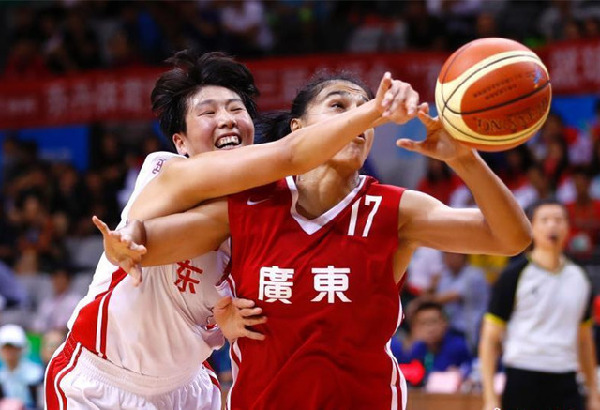 Heated confrontation at the under-18 women's basketball final match during the 13th Chinese National Games in north China's Tianjin municipality [Photo by Xu Zhongru/yinsha.com]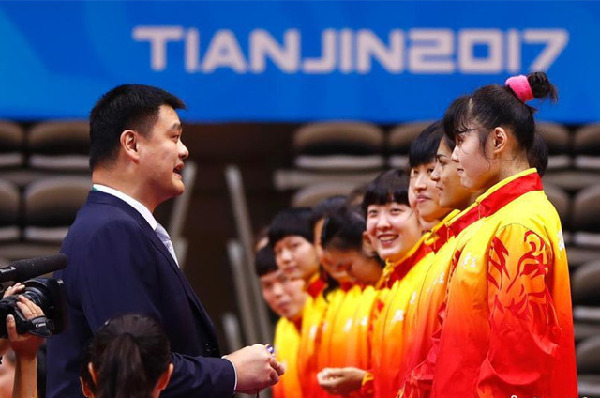 Yao Ming, president of Chinese Basketball Association, presents awards to the Guangdong team, silver medal winner in under-18 women's basketball at 13th Chinese National Games in north China's Tianjin municipality. [Photo by Xu Zhongru/yinsha.com]