Gree chairwoman visits Zhanjiang
Dong Mingzhu, chairwoman of Gree Electric, China's largest manufacturer of air conditioners visited Zhanjiang, Guangdong province on June 6 seeking cooperation with local companies.
At the Zhanjiang subsidiary of Baosteel, the world's fifth largest steel producer and a solid partner with Gree over the years, Dong expressed her desire for the two sides to continue their cooperation in the future.
During her visit in Lianjiang, a county-level city in Zhanjiang and also a national household electrical appliances production base, Dong spoke of the spirit of the craftsmanship – an attitude of being devoted to making things with perfection, precision, concentration, patience and persistence.
"As a leading enterprise, Gree Electric must set a benchmark example and surpass current technology so as to keep up with the pace of the times and maintain its world-class brand reputation," Dong said.
As for Zhanjiang's future, Dong said the key is to produce goods of the best quality, accepted by the market. Dong also promised to help the transformation and upgrading of Zhanjiang's household appliance industry.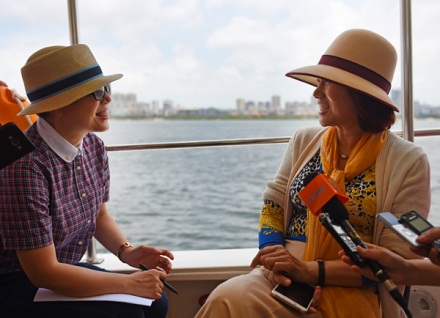 Dong Mingzhu, chairwoman of Gree Electric, is interviewed in Zhanjiang. [Photo/zhanjiang.gov.cn]