Home> Arts and Traditions
Music integrated with Buddhist elements in Anpu
Ancient Anpu in Guangdong province is a 500-year-old town steeped in rich cultural heritage and with history running through its lanes and alleys.
Over the centuries it has given birth to a whole host of traditions and practices that survive in Guangdong to this day, providing a great deal of depth and meaning for the local identity.
One of the most famous creations from Anpu is its signature Anpu Bayin, an orchestral arrangement combining Buddhist and traditional Chinese instruments, dating back 80 years ago.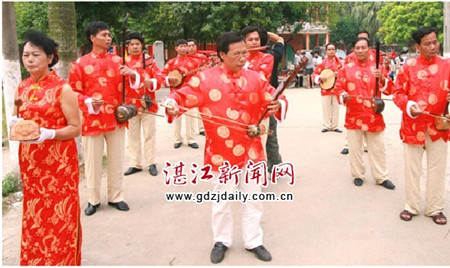 Musicians dress in traditional outfits and play Buddhist and Chinese instruments during a public Anpu Bayin performance in Anpu town, Zhanjiang. [Photo by Chen Xiyu/gdzjdaoly.com.cn]
The town was once home to a Buddhist temple built in 1864, and occupies the site of Anpu Middle School today. For many years, temple attracted followers and believers from near and far to practice their worship and pray. An integral part of Buddhism is its music, and the disciples of the religion would bring it with them to Anpu, ringing gongs and drums both inside and outside the temple.
One of the town's famous and most frequent visitors at that time was Li Lupeng, a great lover of music and all things "Bayin", a general term for traditional Chinese instruments made of wood, stone, metals, and bamboo. Whilst playing one day, Li stumbled upon the unique harmony and lofty artistic ambience created when combining Buddhist instruments with Bayin.
The sweet music gradually caught on in the following years and was combined with other instrumentations performed in the town, giving rise to Anpu Bayin. As well as gongs and drums, alms bowls and wooden knockers were added to the musical collective creating a unique sound embodying the spirit of the people of Anpu.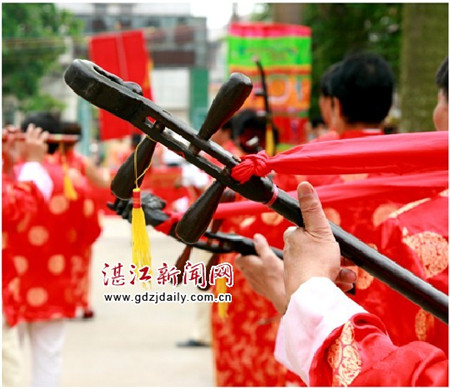 The musical instruments used in Anpu Bayin are often decorated with bright ribbons during performances. [Photo by Chen Xiyu/gdzjdaoly.com.cn]
A typical troupe is made up of 21 men and women dressed in traditional outfits, the men wearing velvet Tang Dynasty (618–907) suits and the women dressed in 1920s figure-hugging qipao.
Anpu Bayin orchestras traditionally perform during large social gatherings and celebrations such as Lantern Festival and Dragon Boat Festival, playing adapted arrangements of Guangdong folk music.
To preserve and inherit the folk art, a special association and performance troupe was established 2006, helping Anpu Bayin to become listed among the first batch of cultural legacies for protection from the municipal government.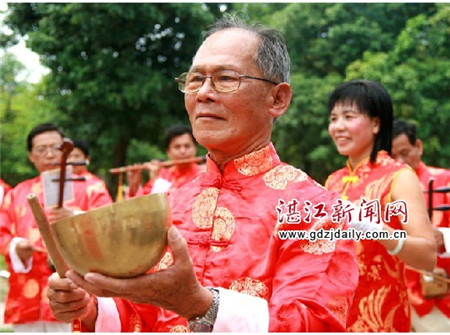 Li Kangquan, a fourth generation inheritor of Anpu Bayin takes part in a performance, knocking a Buddhist alms bowl in rhythm with the beat. [Photo by Chen Xiyu/gdzjdaoly.com.cn]
Today, as with many traditional art forms, steps are being taken to ensure more young people get involved and keep the rich musical style and tradition alive. "I hope we can find more people who really love the art to pass it down," said Li Kangquan, a fourth generation Anpu Bayin successor.