Zhanjiang breaks tourism record during Spring Festival
During the seven-day Spring Festival, Zhanjiang welcomed more than 3.6 million tourists, a year-on-year growth exceeding 15 percent, which generated more than 1.2 billion yuan ($175 million) in revenue.
The Jinashawan Coastal Tourism Resort proved to be one of the most favored scenic spots. Other major attractions, shopping and leisure sites were also booming, driving hotel accommodation rates for middle and high-class hotels up to 90 percent.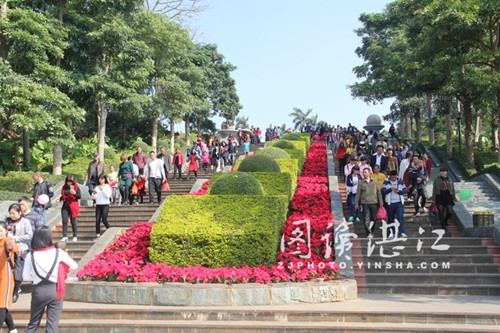 People enjoy Spring Festival at the Huguangyan National Geopark Scenic Area [Photo/zjphoto.yinsha.com]
According to the Zhanjiang Tourism Bureau, eight main attractions, including the Donghai Island Tourist Resort, received a total of nearly 700,000 tourists from home and abroad, earning more than 18 million yuan ($2.6 million). The three most visited scenic spots were the Huguangyan National Geopark Scenic Area, South Asia Subtropical Botanical Garden, and Hedi Silver Lake Tourist Resort. Huguangyan scenic spot received a total of over 210,000 visitors from the first to sixth day of the holiday, breaking the previously set record.
Counties, towns, and villages also drew swarms of tourists with the additions of locally featured folk activities such as the Suixi lion dance and Wuchuan piaose, a traditional art involving puppets dressed as characters from ancient stories or fairy tales.
The catering industry also saw peaks in consumption contributing more than 200 million yuan to the city's revenue. A smorgasbord of delicacies offered by the Ninth Anpu Food Festival, held in Anpu of Zhanjiang's Lianjiang, satisfied people from inside and outside the village.