Zhanjiang-born explorer to drive from South China Sea to Arctic Ocean
Zhanjiang-born explorer Wu Yu is set to embark on his latest journey – driving 8,000 kilometers from the South China Sea to the Arctic Ocean.
Wu will roll off the start line at Leizhou Peninsula in Zhanjiang's Xuwen county on Jan 20. From that point onward, Wu will travel in one direction for the next three months – north.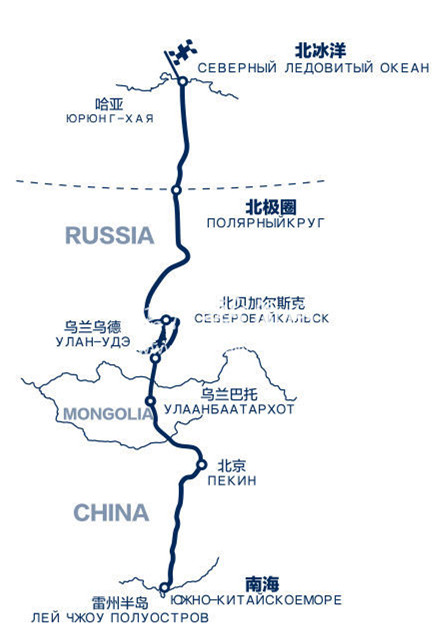 The route from the South China Sea to the Arctic Ocean set by Wu Yu, an explorer from Zhanjiang's Leizhou [Photo/www.gdzjdaily.com.cn]
In his modified Toyota Landcruiser, Wu will drive through China, crossing into Mongolia and then Russia where he will experience temperatures as low as minus 50 C.
Along the route he will pass many landmarks such as Ulaanbaatar, Lake Baikal, and Udachnaya, before finally ending up on the northern Russian coast.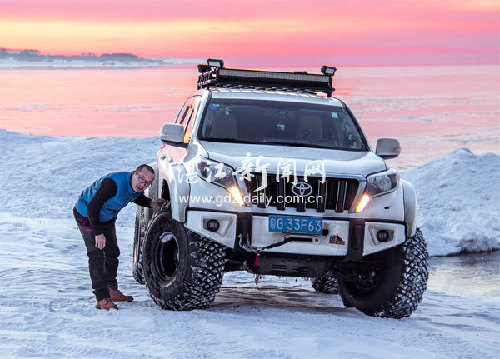 Wu Yu tests his car on Lake Baikal in Russia. [Photo/www.gdzjdaily.com.cn]
Before a press conference to be held on Jan 20, Wu said he expected to experience breathtaking natural landscapes, unique customs and unexpected discoveries along the way, and that he will record his journey as a part of China's first documentary on Arctic exploration.
The press conference will be attended by Russian consul, members from China and Russia's geographic societies.
It is not the first time that Wu has dared to drive into the unknown.
The founder of a driving club, Wu has driven through 20 countries, totaling 150,000 kilometers, the equivalent of driving around the earth's equator almost four times.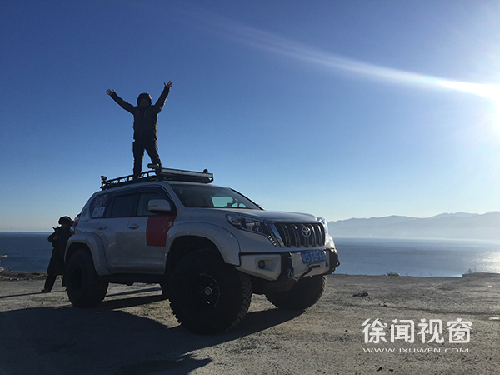 Wu Yu poses on the roof of his Toyota Landcruiser. [Photo/wuwen.com]
Wu has even driven along Russia's infamously treacherous road of bones.
It is well-known as one of the top 10 most dangerous roads in the world with two thirds of its 2,200-km length coated in ice and snow. It is said that 2.2 million prisoners from Gulag labor camps died while constructing the road during the Soviet era (1922-1991). It is the only passage to Oymyakon, one of the coldest permanently inhabited places on the planet.
Wu has driven there twice as the first Chinese in a car with Chinese license plate, and on a second trip in 2015, as part of a Russia-Korea-Japan road trip.
In Oymyakon in January, Wu faced extreme minus 54 C temperatures, which means hot water of 70 C turns instantly to vapor when exposed to the air. Wu dare not shut down his car in such cold weather and once kept the engine on for three days and two nights.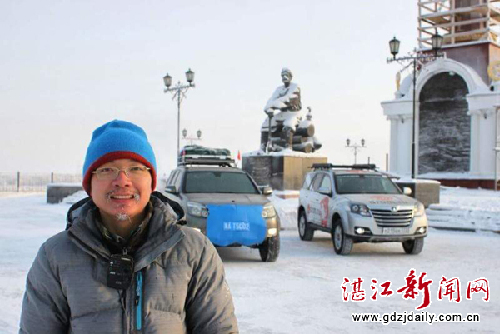 Wu Yu braves the chill in Russia. [Photo/gdzjdaily.com.cn]
Wu said that trips like this are never easy and that anything can happen. "I once experienced a 15-hour wait for passing cars, withstanding minus 46 C after my car broke down," said Wu, and thanked the warm-hearted Russian people who lent a helping hand.
In the face of such difficulties, Wu still favors adventure and looks forward to setting more records driving into the little-known corners of the world.
"I love using wheels to measure the world and explore." said Wu.
Last year, he became the first non-Russian to drive to the Kamchatka Peninsula in the Russian Far East.