Zhanjiang's lion dance highlighted at folk art festival
The 10th Chinese Folk Art Festival, China's largest annual folk art festival took place in Qingyuan in South China's Guangdong province from Dec 16 to 18.
The festival is co-sponsored by the government, literary federations and art associations, and ran alongside the fourth Lingnan Cultural Art Festival, which aims to showcase diversified folk arts from different parts of China.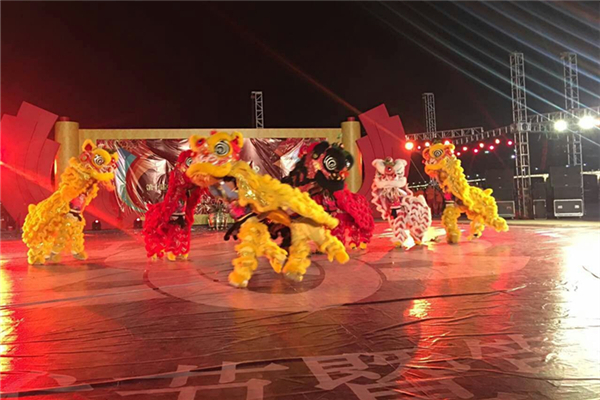 The Longwan Dragon & Lion Dance Troupe from Suixi county, Zhanjiang performs at the 10th Chinese Folk Art Festival held in Guangdong's Qingyuan from Dec 16 to 18. [Photo by Li Zujie/zhanjiang.gov.cn]
Among the 30 troupes from 16 provinces that attended the event was the Longwan Dragon & Lion Dance Troupe from Suixi county -- Zhanjiang's only participant. The troupe staged lion dance native to Suixi and brought fabric lions to life over five performances.
Suixi county was dubbed the "Hometown of Chinese Waking Lions" in 2003 by China Society for the Study of Folk Literature. The county enjoys a long history of performing the dynamic and difficult acrobatic art, which dates back to the Ming and Qing dynasties (1368-1840).
Lion dance performers in Suixi include both men and women in single and double-person lion suits. Unique and exciting dance stunts were performed by the team from Suixi on the day, who had won various prizes at the national competitions.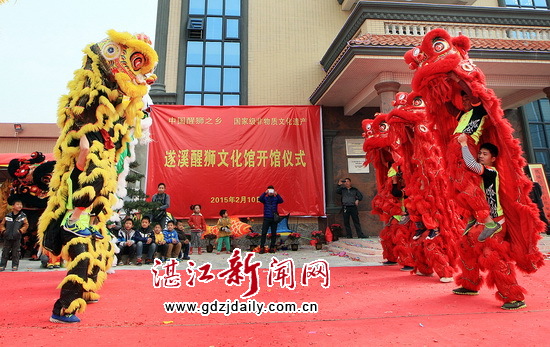 Suixi's waking lion dance has been a public favorite art for over 20 years and was on show at the opening ceremony of a culture museum last year. [Photo by Zhang Fengfeng/gdzjdaily.com.cn]
Zhanjiang also opened a lion dance museum last year to preserve and promote the art.