CMEE 2016 opens in Zhanjiang
China's only national-level marine exposition, the China Marine Economy Expo (CMEE) 2016 kicked off in Zhanjiang, Guangdong province on Nov 24.
More than 2,300 enterprises from 53 countries and regions shared the exciting moment in anticipation of more marine achievement demonstrations to come over the following four days.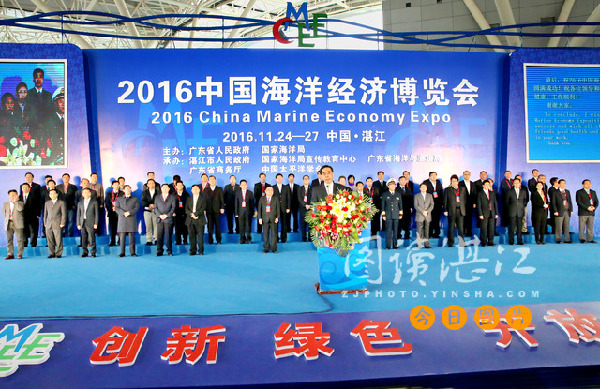 The China Marine Economy Expo (CMEE) 2016 opens in Zhanjiang on Nov 24. [Photo/Zhanjiang.gov.cn]
The opening ceremony was hosted by Deng Haiguang, vice governor of Guangdong. Guangdong Governor Zhu Xiaodan, Wang Hong, director of the State Oceanic Administration, Akanit Muansawad, vice chairman of the Agriculture and Cooperative Commission of the National Legislative Assembly of Thailand were also invited to make speeches.
Zhu hopes that holding this year's marine expo will bring more opportunities to Guangdong's marine industry. He encouraged further trans-provincial and international cooperation for marine-related industries and vowed to make the expo more professional and international, bringing further business opportunities.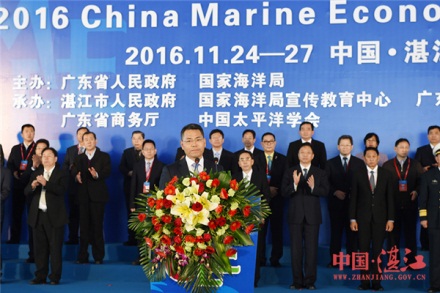 Zhanjiang Mayor gives a welcome speech. [Photo/Zhanjiang.gov.cn]
Zhanjiang Mayor Wang Zhongbing welcomed every participant to work for the common goal of an innovative well-developed marine economy.
"Particularly during the period when the China-ASEAN Free Trade Zone was set up and the Belt and Road Initiative was put forward, our economic cooperation relationships are now better than ever before and boast great potential," said Akanit Muansawad, who thanked the expo for providing new opportunities and a platform for China and Thailand to strengthen marine economic cooperation.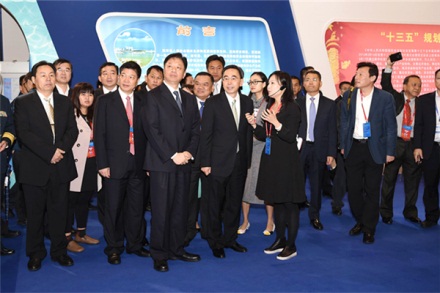 Government officials are shown around the exhibition halls of the Zhanjiang Olympic Sports Center. [Photo by Lang Shuchen /Zhanjiang.gov.cn]