Scenes shot in Xuwen for US documentary on Maritime Silk Road
Xuwen county in Zhanjiang, Guangdong province received a group of special international visitors from May 12 to 13, to visit several of the county's historic tourist attractions.
The group, who were filming a documentary about the Maritime Silk Road, was comprised of the producers from the Guangdong Radio and Television Station and from the US-based Public Broadcasting Service (PBS), including Jeffrey Lehmann, who has twice won Emmy Awards for hosting and producing.
It also marked the first time that the county has drawn the attention of a major western TV outlet for its importance on the Chinese ancient Maritime Silk Road.
Xuwen is considered to be the starting point of the Maritime Silk Road in ancient China and the county's relics from the ports date back to the Han Dynasty (206 BC-AD 24). The Dahan Sandun Tourist Resort, has been included in the first group of excellent tourist attractions along the road.
"Dahan Sandun Tourist Resort is a landmark of ancient ports and we want to put it into a documentary, in a bid to spread its influence to a wider audience and let more people know the advantages of China's traditional trade and shipbuilding techniques over the West at the time," said Lehmann.
During his visit, Lehmann was also impressed by the vast cultivation of pineapples in the county and showed deep interest in the history of the fruit in Xuwen.
The documentary, named Maritime Silk Road, has six episodes and is expected to be screened by PBS and Guangdong Radio and Television Station in early 2017.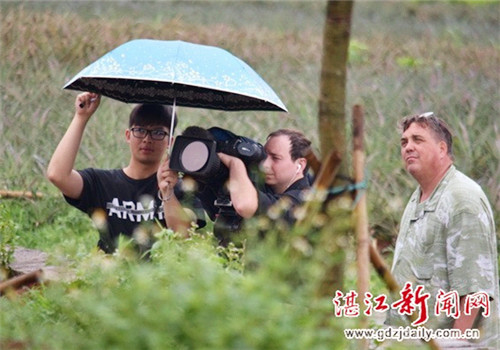 Producers shoot footage in Xuwen for a documentary on the Maritime Silk Road. [Photo/gdzjdaily.com.cn]