Mayor of Zhanjiang expresses views on Govt Work Report
The mayor of Zhanjiang, Wang Zhongbing, has expressed his optimism for China's economy ahead of the implementation of the 13th Five-Year Plan (2016-20). Wang expects China to achieve its goal of building a moderately well-off society in all aspects.
His comments came after he attended a hearing of the Government Work Report delivered by Premier Li Keqiang during the fourth session of the 12th National People's Congress (NPC) on March 5.
"This year's Government Work Report summarizes the past achievements and lays out plans for our future work. I'm very inspired after hearing it," said Wang.
The report shed new light on the development direction for Zhanjiang and will stimulate new motives of Zhanjiang for further development, the mayor pointed out.
The report emphasized the strengthening of marine industry, the protection of ocean ecological resources and the expansion of the marine economy. All three of these points play to the strengths of Zhanjiang and will provide a strong driver for the city to become a key player in the marine industry, according to the mayor.
The mayor said that Zhanjiang will be more confident in cooperating with ASEAN countries, as China strives to develop its economic corridors on land and its pivots for maritime cooperation.
To build a moderately well-off society, China will focus on improving education and medical care. This highlights a new direction for Zhanjiang's urban construction and the overall development of urban and rural areas in the city, according to the mayor.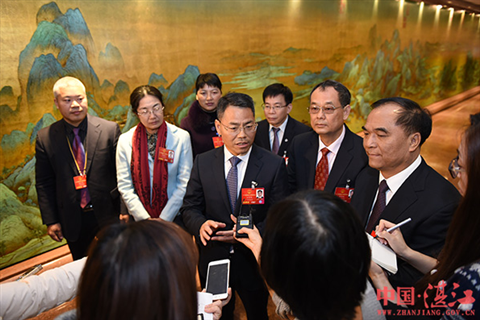 Zhanjiang Mayor Wang Zhongbing (M) is interviewed by reporters after hearing the Government Work Report on March 5. [Photo/zhanjiang.gov.cn]