Communities in Zhanjiang equipped with smart express lockers
By Xu Lili Updated: 2015-12-07
The city of Zhanjiang unveiled smart express lockers in some of its communities in October this year. So far, 12 smart express lockers have been installed in various communities, the Zhanjiang Daily reported on Dec 7.
By March, 2016, 120 communities in downtown Zhanjiang will be equipped with smart express lockers, which are similar to supermarket lockers, but have more functions.
If users cannot be available to pick up their express items, they can use smart express lockers to receive their deliveries. When their express items arrive, users will receive a text message and password on their mobile phones.
After entering their phone number and password on the operating screen of the locker, they will access their express items. The system will also have an app to download and exercise similar functions to access the items.
Currently, consumers in pilot regions will be able to demand delivery items be stored in smart express lockers when they place an order.
Express industry has a flourishing market due to the development of e-commerce. However, "the last one kilometer-problem" still remains to be resolved, while increasing labor costs restrict the development of express companies.
The smart express lockers are expected to help ease the problem and provide much more convenience for residents.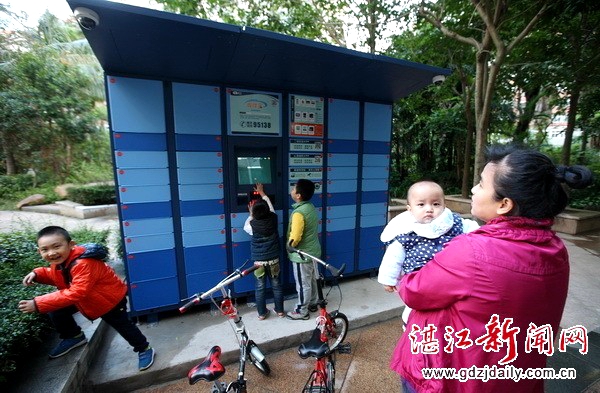 Communities in Zhanjiang now have the convenience of smart express lockers. [Photo/gdzjdaily.com.cn]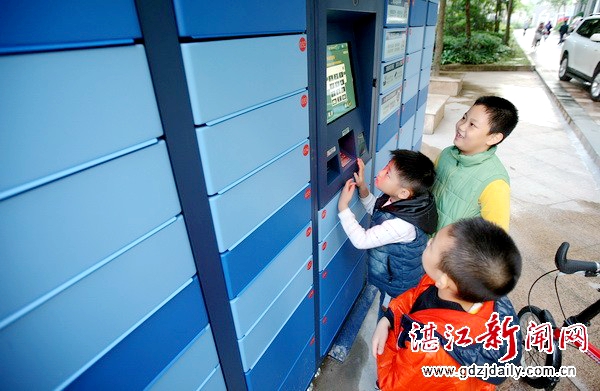 Children are curious about new smart express lockers in Zhanjiang. [Photo/gdzjdaily.com.cn]
Edited by Mevlut Katik