Young man has bigger dream in small county
By Xu Lili Updated: 2015-09-23
Earning a high salary in a big city is many people's dream. However, Li Donglai gave up his attractive job with an annual salary of 300,000 yuan ($47,070) to return to his hometown of Suixi in Zhanjiang, South China's Guangdong province.
Currently, he is the head of the Beipoxu service station. His job is to help villagers buy products online and sell all kinds of agricultural products through the Internet. The job seems simple, but for him it is a way to change traditional agriculture and help villagers become rich.
Li was born in 1984 in Suixi county. He has been engaged in the software development industry since he graduated from Guangdong University of Technology in 2008. With rich work experience, Li entered the Alibaba Group, China's e-commerce giant, in June 2013. There, he did software engineering and project management with an annual pay of more than 300,000 yuan.
In July 2015, Li learned that Alibaba planned to launch its rural Taobao project in his hometown. That is when he saw a new opportunity.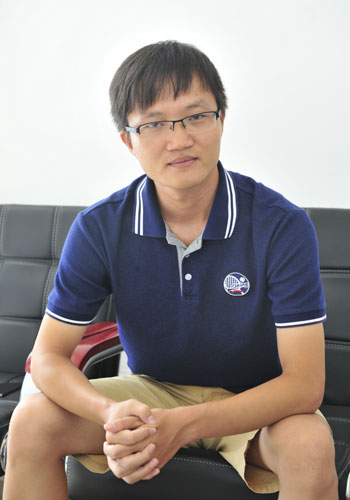 Li Donglai [Photo by Yang Xun/Zhanjiang Evening News]
"I know very well about Alibaba's culture and Jack Ma's startup story as I worked there for more than two years. I saw a new round of e-commerce opportunity when I heard about the rural Taobao project. So I decided to start a real business instead of writing programming language on a computer," Li said.
Li stood out from hundreds of applicants and became a rural Taobao partner in his hometown of Suixi.
After changing his job, Li still gets up at 7:30 every morning, eats breakfast and then goes to work. The only difference is his life and working environment. He used to take the bus and subway, and work in an office with the air conditioner on. But now he rides a motorbike to farmlands and explains e-commerce to farmers.
"For me, what has changed is the environment around me. My attitude towards work has never changed," Li said.
Because of his lack of marketing experience and villagers' distrust of e-commerce, Li's service station did not receive many orders at the beginning.
"Farmers are used to the traditional shopping mode. That is getting goods by giving money face to face. For them, what they see is most practical," Li said.
To help farmers learn more about e-commerce and improve orders, Li came up with many ideas. He exhibited information about the rural Taobao project and the Taobao service station at villages nearby, and explained related information to villagers patiently. His service station is now receiving more than 20 orders each day.
"I feel satisfied every time I saw villagers find products at reasonable prices online. I not only hope to change their shopping mode and life through e-commerce, but also hope to help them to be rich," Li said.
Many villagers in Suixi don't know how to use the Internet. They sell dry seafood and agricultural products at a low price in the traditional way. However, with the help of e-commerce, local specialties can be sold to cities around the country and even to foreign countries at favorable prices.
Recently, Li has been busy doing market research on local seafood and agricultural products. After the rural Taobao commission sale platform is established, Li will purchase high-quality products and sell them online in a unified package in order to promote local brands and help farmers earn more money.
Edited by Peter Nordlinger