On November 7th and 8th, hosted by Ministry of Commerce of China and Presidential Office of Civil Affairs of Angola, and organized by China International Contractors Association and Chamber of Commerce for Chinese Enterprises in Angola, China-Angola Investment Forum was held at National Convention Center in Luanda, Capital City of Angola. Mr. Chen Xiaohua, member of Standing Committee of Party Committee and Deputy General Manager of CGGC, President of CGGC International, and President of CGGC Overseas Investment led a delegation to participate the Forum.
During the Forum, Mr. Chen met with Ambassador and Economic and Commercial Counselor of Chinese Embassy in Angola respectively. He had extensive and in-depth exchanges and discussions about long-term cooperation with Angola's Minister of Agriculture and Minister of Tourism and its renowned enterprises, with whom he signed a host of cooperation agreements in the fields of transportation, house building, and agriculture, etc.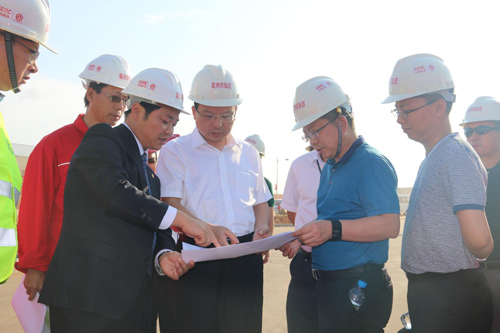 Mr. Chen Xiaohua inspected the Project on the construction site.
During his stay in Angola, Mr. Chen conducted in-depth research on CGGC's market development in Angola and its management of projects under construction. He held a special meeting focusing on market development. He paid a visit to the employees at the construction site, listened to project reports and conducted on-site inspection. He held a special meeting focusing on management of projects under construction. Mr. Chen put forward five requirements for the Angola Project under construction: firstly, the employees should do further research on the efficient management pattern inside joint ventures; secondly, they should spare no effort to promote the internationalization of resource allocation; thirdly, they should learn carefully about local tax law so as to carry out lawful operations and perform appropriate financial management and planning; fourthly, they should build and improve internal regulation system; fifthly, they should actively fulfill their social responsibilities and further increase the visibility of CGGC in Angola. Mr. Chen gave special guidance on the building of the limited company, and required the limited company to build the management mechanism of "1+2+3+N", optimize resource allocation, and reinforce internal construction of branches with firm will.
Mr. Chen also had talks with CGGC's young employees in Angola. He introduced CGGC's promising situation, the overall reform and development and the development of its international business, and he encouraged them to continue their efforts to stride forward despite the difficulties, seize the golden opportunities in Angola, follow the trend of development of CGGC and contribute to its transformation and upgrading. His words greatly enhanced the young employees' cohesiveness and aroused their enthusiasm for work.