On November 4th, Ms. Jacqueline Sultan, Minister of Agriculture of the Republic of Guinea visited CGGC International's headquarter in Beijing at the invitation of the latter, and she was received by Mr. Lyu Zexiang, General Manager of CGGC International.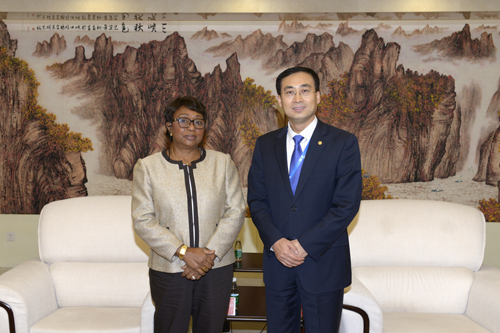 Mr. Lyu made a detailed introduction of CGGC's achievements in various fields across the globe, capability of contract implementation and successful experiences, and highlighted the development of projects constructed by CGGC in Guinea. He said CGGC is expecting to further its cooperation with Guinean government and provide appropriate solutions for Guinean infrastructure construction including those in the field of agriculture.
Ms. Jacqueline Sultan expressed appreciation for CGGC's technological strength and its investment and financing capability. She said CGGC has gained great successes in the construction and investment in Africa, and the Guinean government hopes CGGC will participate fully and deeply in Guinean social and economic development in more fields and improve the well-being of Guinean people.