On 3rd September, CGGC's vice president Ren Jianguo met with Argentine president Mauricio Macri who were visiting Hangzhou to attend G20 summit, accompanied by Susana Malcorra, foreign minister of Argentina, and Yang Wanming, Chinese ambassador to Argentina.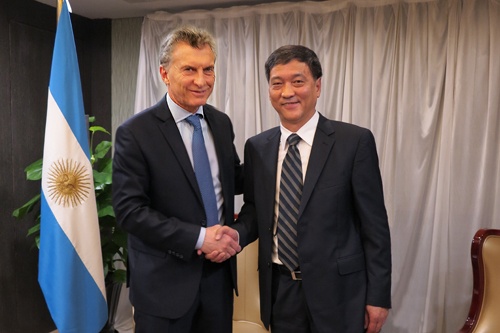 During their friendly discussion, President Macri reaffirmed that the NK/JC hydropower station significantly promoted social economy and people's livelihood of Argentina. He agreed that both parties had intimately cooperated and unremittingly endeavored to further push forward the project construction since January, 2016 in the hope to maintaining communication and deep coordination between China and Argentina so that the contract could be performed as scheduled. As the president promised, CGGC is welcome to continue participating in impelling Argentine government to work out more planning in fields of water resources and new energy.
Mr. Ren Jianguo expressed his heartful appreciation towards Chinese government, Argentine government, Ambassador Yang and President Macri for their concern and support for the NK/JC project. Mr. Ren said that CGGC would complete this project in strict accordance with the contract around the basically cooperative concept of integrity, fairness and win-win. Further to the confidence, Ren expects that CGGC could be thoroughly and deeply involved in Argentine infrastructure construction by taking the opportunity of NK/JC project.
Liu Huailiang, vice president and chief engineer of CGGC International, attended the above event.