On 20 August, CGGC launched an event to assist needy students in Nagsongla District in Uganda. It announced that it will build a long-term relationship with ten needy students from local communities and provide financial aid to them throughout their six academic years from Grade 7 to Grade 12. More than 300 people, including Minister of Public Affairs of Uganda, President of Government of Nagsongla District, and teachers and students from local schools were present at the launching ceremony of the event.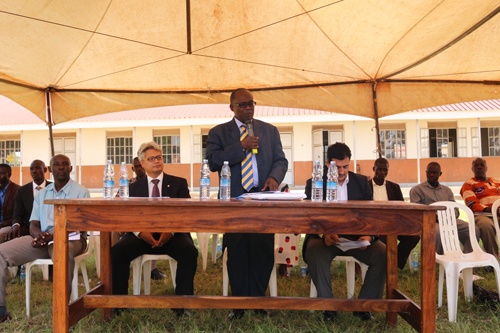 Minister of Public Affairs of Uganda is delivering a speech
Director of CGGC's Uganda office delivered a speech in which he gave a detailed introduction to the history, strength, and the business development in Uganda of CGGC. He noted that as one of the leading enterprises in the world's projects contracting field and one of the top ten Chinese enterprises which have won China-Africa Friendship Award, CGGC is devoting every effort to implement the relative results of the Summit of China-Africa Cooperation Forum held in Johannesburg. CGGC is always devoted to helping with the sustainable development of society and economy of Nagsongla District and the welfare of its people. Therefore, it decided to provide long-term financial aid to ten students from impoverished families so as to fulfill its social responsibility, which is intended to help enhance the capability of impoverished families and local communities so that they will be able to make a better living by themselves in the future.
Minister of Public Affairs of Uganda spoke highly of the benevolent act of CGGC. With its sincere love and compassion, CGGC gave both great financial support and spiritual encouragement to these poor students. It is a well-deserved ambassador of China-Uganda friendship and representative of China's outstanding enterprises. He also expressed his wishes for the everlasting friendship between China and Uganda and a boom of CGGC's business in Uganda.