On 6 August, CGGC received commendation from the Association of Chinese Enterprises in Egypt for its distinguished performance in fulfilling its social responsibilities in Egypt in the first half of the year. Mr Han Bing, Economic and Commercial Minister Counselor of Chinese Embassy in Egypt granted the certificate of honor to the relative responsible person of Egypt company of CGGC.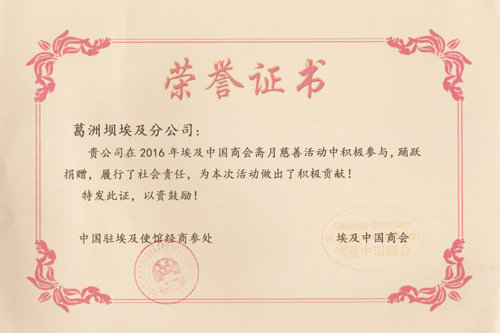 On the certificate-granting ceremony, Mr Han Bing spoke highly of the remarkable achievements CGGC has made since it entered Egyptian market, and gave full affirmation to its active participation in and full support to local charitable activities. He said that while the Chinese enterprises including CGGC are trying to promote China-Egypt economic and trade cooperation, they never forget to return the benefits to local communities and share the development fruits with them, which fully reflects their great sense of social responsibilities and helps build an admirable image of the Chinese people living in Egypt.
In the recent Ramadan, as the Vice Chairman of the Chamber, Egypt company of CGGC devoted itself to co-organizing Friday Prayer Charitable Activities with the Association of Chinese Enterprises. It actively donated festive goods and treats and conveyed festive greetings to residents of local communities. It also offered gift boxes and Iftar meals to local poor residents to make their festival full of warmth and happiness, which was greatly appreciated by the Egyptian people. Through these activities, CGGC made a contribution to promoting the traditional friendship between China and Egypt and its own reputation in Egypt.