On April 2, a celebration for the 10th anniversary of the establishment of the Association of Chinese Enterprises in Angola was sponsored by the Association of Chinese Enterprises in Angola in Luanda, Angola's capital city. On this ceremony, CGGC was honored with the Model Enterprise over 10-year Development (2006-2016) of the Association of Chinese Enterprises in Angola, owing to the outstanding performance and good reputation during its operation in Angola. Cui Aimin, Chinese Ambassador to Angola, and Li Yongjun, the Economic and Commercial Counselor in Angola, took part in the event and issued the trophy and the certificate to related officials of CGGC Angola Co. Ltd.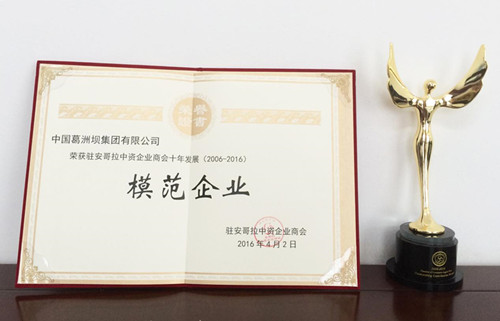 Since stepping out into Angolan market, CGGC has been persisting in the cooperative philosophy of Honesty, Fairness and Win-win and the consciousness of its social responsibility to Improve People's Livelihood and Promote Social Progress. Further to its prodigious behaviors of participating in Angolan energy infrastructure construction and initiative assistance to Angolan improvement of society and people's wellbeing, CGGC has extraordinarily enhanced its brand popularity and reputation in Angola thanks to the success contract to undertake Caculo Cabaca Hydropower Project which was widely praised by the local society. The Award of Model Enterprise to CGGC is considered an overall check upon Chinese companies' cultivation and achievements during the past 10 years in Angola, as well as an integral recognition for CGGC's dedication to marketing and striking root in the local area for a long term.
At the event, the Association held an election for the next term of Council, from which CGGC Angola Co. Ltd. was elected to be a Vice President Company of the new term.