On September 4, 2015, Amado Boudou, Vice President of Argentina made a special visit to headquarters of CGGC International in Beijing when he attended the commemorative activity of the 70th anniversary of victory in the Chinese People's War of Resistance against Japanese Aggression and World Anti-Fascist War. Chen Xiaohua, Party Committee Member and Deputy General Manager of CGGC and Chairman and General Manager of CGGC International, extended warm reception. Both parties expressed unanimously that friendly cooperation will be further strengthened and consolidated in Argentina's infrastructure construction and investment between Argentina Government and CGGC.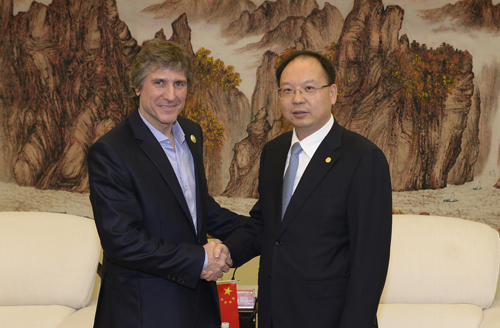 Chen Xiaohua introduced the development process, business scope and transnational business situation of CGGC in detail to the Vice President, the achievements of business development fulfilled in countries in Latin America, reported the latest progress of Argentina Kisseih Hydropower Station in detail and extended thanks to the Vice President for long-term trust and support for CGGC. Chen Xiaohua said that "two years ago, when CGGC won the bid for Kisseih Hydropower Station Project, I met with you in Diaoyutai State Guesthouse and made in-depth discussion over project implementation and further cooperation by taking advantage of such an opportunity; two years later, under the strong support of Xi Jinping, President of China, and Christina, President of Argentina, Kisseih Hydropower Station Project was officially commenced after the financing was completed and various work proceeded in an orderly way and achieved excellent results, thus being a brand new example for Sino-Argentina cooperation. In the future, CGGC will live up to the expectation of people of Argentina and fulfill smooth contract performance through excellent management and exquisite technologies".
Vice President Boudou expressed gratitude for Chen Xiaohua's warm reception and introduction, showed appreciation for comprehensive business scope, strong comprehensive strength and brilliant achievements fulfilled in transnational businesses and expressed satisfaction for large amount of work done for promoting implementation of Kisseih Hydropower Station Project and practical achievements fulfilled. Vice President Boudou said that highly fruitful cooperation between both parties in Kisseih Hydropower Station Project laid sold foundation for CGGC's full participation in infrastructure construction and investment in Argentina and expanding brand influence of CGGC in Argentina. Argentina Government greatly welcomes CGGC to comprehensively and deeply participate in social and economic construction of Argentina in broader fields and will provide comprehensive support and help for development of CGGC in Argentina.
Gustavo Martineau, Argentina Ambassador to China and Yang Yisheng, Deputy Chief Economist, International Business Director of CGGC, Party Secretary and Deputy General Manager of CGGC International and other relevant person attended the above meeting.