On June 25, 2015(local time), Chen Xiaohua, Vice President of CGGC and Chairman&President of CGGC International met with Vladimir I. Semashko, Deputy Prime Minister of Belarus.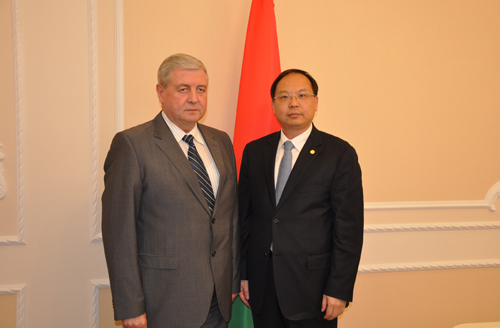 Deputy Prime Minister Semashko warmly welcomed Chen Xiaohua and his delegation, spoke highly of CGGC, highlighted its overall strength, achievements in international markets and localization strategy. He introduced Belarus energy, industry, infrastructure construction and etc. to the delegation and expressed his expectation that large enterprises like CGGC would participate in infrastructure construction and investment in Belarus.
Chen Xiaohua appreciated Deputy Prime Minister for his trust, support and help on CGGC's development in Belarus. Chen made a detailed introduction of CGGC's main business, advantages and experience in infrastructure construction, investment&financing and operation of BOT projects. He expected cooperation between CGGC and Belarus in energy, infrastructure construction, industrial projects to achieve CGGC's sustainable development in Belarus in virtue of closed relationship between China and Belarus, and China's "one belt and one road" initiative.