On June 24, 2015(local time), Chen Xiaohua, Vice President of CGG and Chairman&President of CGGC International met with Mirko Sarovic, Deputy Prime Minister of Bosnia and Herzegovina.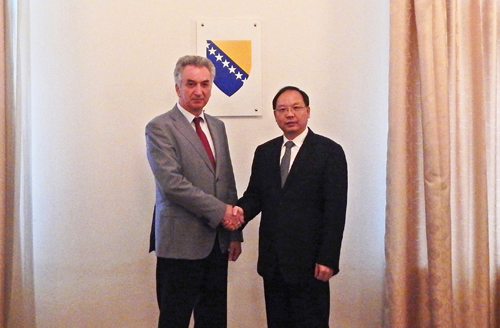 Vice Premier Mirko Sarovic warmly welcomed Chen Xiaohua and his delegation, he expressed his thanks to CGGC for participating in infrastructure construction of Bosnia and Herzegovina. He spoke highly of CGGC's strategy and practice of internationalization, localization and utilization of local resources, consequently assisting to promote employment, economic and social development of Bosnia and Herzegovina.
Chen Xiaohua appreciated Deputy Prime Minister's support and trust for CGGC and introduced CGGC's international business. Chen said, as the Thermal Power Plant Tuzla Unit 7 is the first project contracted by CGGC in Europe, CGGC would build it a model project and a symbol of China-Central Europe Cooperation. During the visit, both parties also made in-depth exchanges in other fields, expecting an expanded corporation.