On June 5, 2015, Chen Xiaohua, Vice President of CGGC, Chairman and President of CGGC International met with Dr. Rafael Poveda, Coordinating Minister for Strategic Sectors of Ecuador at the 6th International Infrastructure Investment and Construction Forum.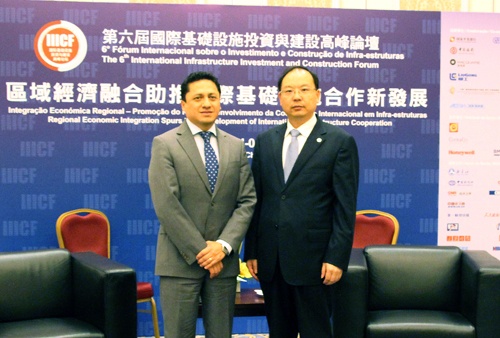 Chen Xiaohua made a detailed introduction to Minister Poveda about CGGC's business in Ecuador, especially the current progress of the soon-to-be completed Paute-Sopladora Hydropower Station. He also conveyed his sincere gratitude to Minister Poveda for Ecuadorian Government's trust and favor bestowed on CGGC. Backed up by Ecuadorian Government, the Paute-Sopladora Hydropower Station is guaranteed a sufficient resource allocation and fine project progress by CGGC. CGGC will proceed in sparing no effort to ensure the project's successful completion with well organization and strengthened management, thus promoting economic development, benefiting local people and making contributions to China-Ecuador friendship.
Minister Poveda spoke highly of CGGC's contributions to Ecuadorian economic development, also its good performance on completing projects under construction in Ecuador. He believed that the Paute-Sopladora Hydropower Station will be CGGC's new shiny business card in Latin America. He said Ecuadorian Industry Development Planning is recently put forward, which involves many infrastructure construction fields such as mining industry, power grid, roads construction, etc., in which he believes CGGC may play a role. He said CGGC is welcomed by Ecuadorian government and people to continually participate in Ecuadorian industrialization process.