John Dramani Mahama, President of Ghana, accompanied by Sun Baohong, Chinese ambassador to Ghana, Commercial Counselor of Economic and Commmercial Counsellor's Office of the Embassy of China , and minister of water resources of Ghana paid a site inspection to Kpong Water Supply Expansion Project which was constructed by CGGC, on December 23, 2014.
President Mahama spoke highly of CGGC's good performance on contract and excellent construction quality in Kpong Water Supply Expansion Project. He also expressed his sincerely appreciation to CGGC for their wisdom and sweat paid in this project.
"Kpong Water Supply Expansion Project is a very important livelihood project for Ghana, its completion will play a key role in improving the economic development and residential water condition of Accra, capital of Ghana and surrounding areas."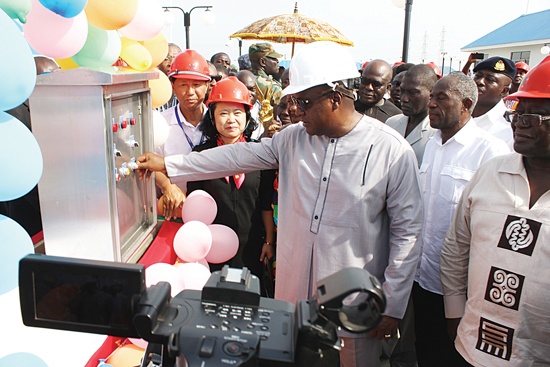 President of Ghana John Dramani Mahama pays a visit to the site of water supply.[Photo/cggc.cc]
Kpong Water Supply Expansion Project, located in the coastal plain area of Kpong, 45kmfrom north of Tema, including water plant, production management building, water pumps, substations, raw water aeration tanks, low load clarification tanks, air-water backwashing tanks, large clean-water reservoirs, water pipes and booster pump stations, etc. The project adopts many clean water treatment techniques such as conventional precipitation, sand filtration, and disinfection. It will be the largest water supply project in Ghana.
Since the commencement of works, CGGC Project Department of Kpong Water Supply Expansion Project has achieved much praise from local government, employer and Chinese institutes to Ghana because of its strict inner management, excellent construction quality and good contract performance.