Baidu searching for solution to dispute over online books
By Wang Xin (China Daily)
Updated: 2011-11-30
---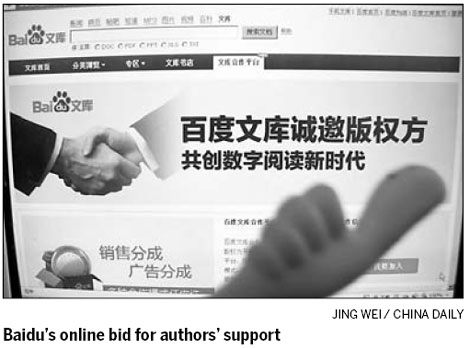 At the center of a firestorm early this year over copyright lawsuits from writers, China's biggest search engine Baidu is attempting to reshape its image and business model through an agreement with the China Written Works Copyright Society.
If successful, the deal will set new standards for revenue sharing in online publishing, said industry insiders.
"We have had many talks and negotiations on authorization, joint pricing and ad revenue sharing with Baidu," said Zhang Hongbo, general director of the society, which serves as collective copyright management organization.
Baidu has said it is willing to accept the society's audits on copyrights, Zhang told China Daily, but declined to reveal further details.
More information is expected to be released at the end of this year, according to reports in the Chinese media.
The deal would resolve copyright disputes over the Baidu Library, a document-sharing website, insiders say.
Collaboration between Baidu and the writers association would not only help solve current disputes, but also set the future direction of the e-publishing, video and music industries, You Tianyu, an analyst at iResearch consultancy group company, told the Economic Information Daily.
Because of Baidu's leading position, its agreement is expected to become the new industry standard, You said.
"We noticed that Baidu has removed unauthorized literature uploaded by users and at the same time is exploring a commercial model mutually beneficial to everyone along the publishing chain," Zhang said.
"While seeking authorization, it is also providing an e-platform for copyrighted books," he said.
If the deal reaches fruition, it is likely to have a far-reaching impact on the entire Internet in China, noted Wang Yijiang, a senior IT analyst.
Copyright associations for video and music artists might also make agreements based on the model, Wang said.
Cooperation between Internet companies and traditional content providers is now a mature business model in the developed world, said Wang Ran, a researcher at Loughborough University.
He noted US Web giant Amazon, whose sale of e-books has surpassed conventional paper books and generated more than $1 billion in profits last year. Its partner publishers also reaped profits of about $1 billion.
Baidu's deal will give it a new profit center and benefit publishers and writers at the same time, he said.
The authors' society is also exploring agreements with Amazon along with other e-book and mobile news platforms, Zhang said, with deals expected to be signed at the end of the year.
A collective management approach is needed to respond to challenges posed in the digital era, Zhang said.
It is a global issue, he said, with many countries trying to strike a balance between copyright protection and industry growth.
The collective organization helps in authorization, promotion online and maintaining rights, he added.
"The prerequisite for our cooperation with Baidu is to ensure the interests of our association members are protected. After that comes the widespread distribution of their books," Zhang said.
China Daily
(China Daily 11/30/2011 page17)
Are we able to stop our rivals from obtaining authorization of a patent application that we regard as having substantial defects during the substantive examination, given the fact that the rival companies hane already published their patent applications?