Judges at the Supreme People's Court (SPC) took an oath of allegiance to the Constitution on Dec 4 ,the fifth National Constitution Day, vowing to safeguard its authority and strictly abide by its principles.
At the oath ceremony, SPC president Zhou Qiang stressed that members of the top court must fulfill their oath and perform the duties conferred by the Constitution and laws faithfully to contribute to fully implementing the rule of law and accelerating the establishment of the socialist rule of law in China.
He emphasized that all staffs at courts must follow the principle of "All power belongs to the people" and the people-oriented development philosophy, and adhere to administrating justice for the people and maintaining judicial fairness to meet the public's increasing judicial needs and ensure them to feel fairness and justice in each judicial case.
Zhou also mentioned that optimizing the judicial system and improving modern adjudication capacity play a role in promoting China's economic social development.
On Constitution Day the SPC is opened to the public. More than 50 lawyers and representatives from the media, enterprises and schools, as well as members of the Chinese People's Political Consultative Conference (CPPCC), visited the top court and its tribunals, as well as the centralized control center and the exhibition of the courts' achievements in resolving the problem of difficult enforcement.
The current Constitution of China was first adopted on Dec 4, 1982, and Dec 4 was designated as China's Constitution Day in 2014.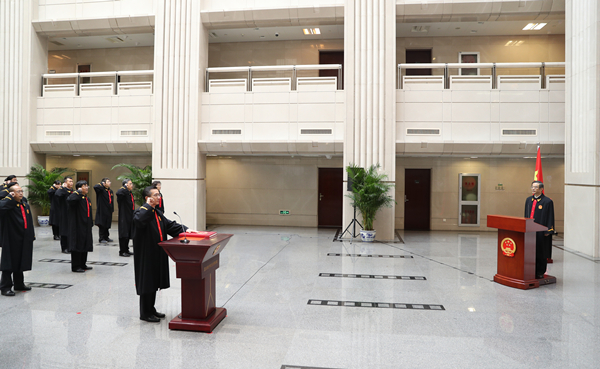 Judges at the Supreme People's Court (SPC) take an oath of allegiance to the Constitution on Dec 4. [Photo provided to english.court.gov.cn]