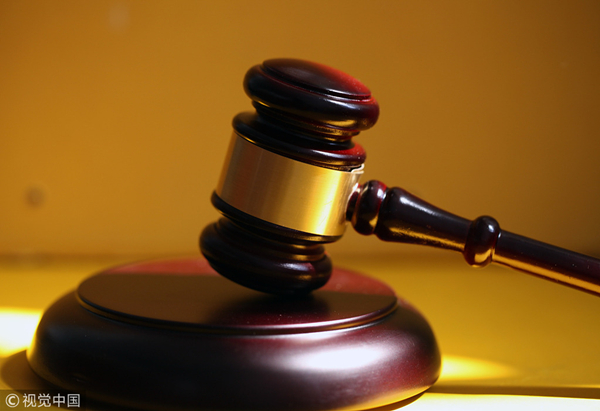 [Photo/VCG]
The Beijing Internet Court, a special court set up in the capital to deal with internet-related cases, is turning its sights to technology to prevent dishonest litigation after a successful initiative to allow people to file lawsuits online.
The court, established in early September, is the country's second to specialize in internet-related cases, including disputes caused by online copyright and shopping contracts. The first such court was set up in Hangzhou, Zhejiang province, and the third one is in Guangzhou, Guangdong province.
"Thanks to technology, litigants no longer need to come to our office to file cases, submit evidence or even attend hearings, as all the procedures can be done online," Zhang Wen, the court's president, said at a news conference on Thursday.
Based on that success, she said, the court has begun exploring how to use technology to avoid dishonest conduct in litigation, "such as fake lawsuits, delays of verdict implementation and improper behavior in hearings", she said.
To improve the credibility of online litigation, the court has adopted some technical measures.
"For example," said She Guiqing, the court's vice-president, "the identities of lawyers and litigants must be verified through a facial recognition system, and evidence online is protected by blockchain technology to prevent it from being falsified." He said that the process of a lawsuit will be seen via the court's e-platform, which will reduce traffic costs to litigants and make judicial work more transparent.
"While enjoying better legal services, litigants-especially the losing parties in lawsuits-should also be honest in implementing the rulings," he said, calling on them to report assets that can be paid via the court's online platform as soon as possible after the litigation ends.
Another judge, Zhao Changxin, said being honest is a must for each part in the litigation and said litigants should not attempt to evade liability by refusing to attend hearings or by playing for time with respect to trials.
At the news conference, 19 internet enterprises, including Baidu, Sina Corp and Tencent, also promised to be honest in lawsuits.
"We face about 1,000 internet-related disputes every year, of which 90 percent relate to online copyright, unfair competition and reputation," said Gu Haiyan, Sina Corp's manager of legal affairs, adding they will make credibility as priority in litigations.