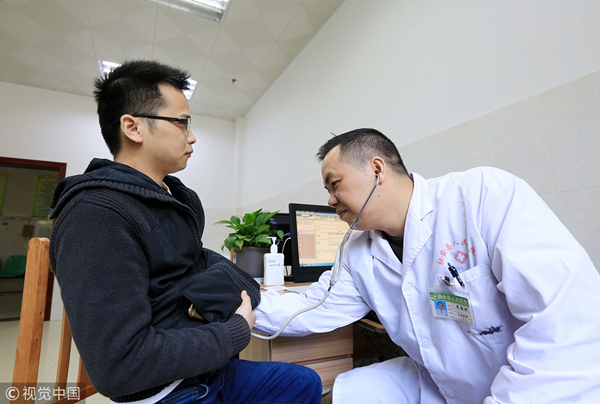 A doctor examines a patient at a hospital in Liuzhou, Guangxi Zhuang autonomous region on April 9, 2018. [Photo/VCG]
The latest draft of a law on basic medical care and health promotion highlights protection of the safety and dignity of medical staff, forming a legal deterrent to violations against them.
The draft was submitted to the Standing Committee of the National People's Congress, the country's top legislature, for a second review on Monday. It stipulates that all organizations and individuals are prohibited from threatening or harming the safety of medical workers, or offending their dignity.
The newly added rule is part of the legislators' efforts to build a harmonious doctor-patient relationship in the country amid rising media reports of medical disputes, some of which have escalated into injuries to medical staff.
In one recent case, a 46-year-old man, surnamed Zheng, is alleged to have bashed a gynecologist at Peking University First Hospital on Sept 22 after the doctor refused to perform a C-section on his 44-year-old wife.
Zheng was detained by police on Oct 13 for criminal investigation, pending trial.
Though the incident has prompted 28 departments, including the country's top economic planner, health and public security authorities, to jointly release a circular on Oct 16 to blacklist and severely punish assailants, the new draft, for the first time, incorporates a ban on aggression against medical staff into the legislation system.
The new draft also stipulates that no organization or individual is allowed to disrupt order at medical institutions, and a framework dedicated to preventing and resolving medical disputes will be established to help maintain normal operations at hospitals and clinics.
To further ease tensions between doctors and patients, the draft law places emphasis on strengthening education on medical ethics and requires written consent in advance of operations, special examinations and treatment.
"Medical institutions should take responsibility for the quality of their services," the draft says.
The first review of the draft was carried out by China's top legislature in December.