Legal publicity in Ningxia Taxation Museum
(english.legalinfo.gov.cn) Updated : 2018-07-23
A delegation of editors-in-chief of legal newspapers at provincial level visited the Ningxia Taxation Cultural Center, the only taxation museum in the Ningxia Hui Autonomous Region, on July 9.
The center is administered by the Nignxia taxation bureau and is a model base for legal publicity. The center has held many activities such as calligraphy, painting and writing competitions involving more than 5000 primary and middle school students.
The bureau also opened a column named "juvenile taxation class" and organized legal publicity activities among teenagers, such as writing compositions on "The Taxation story around us".
It also organized artistic performances publicizing legal taxation issues including more than 10 shows in local cultural squares and more than 130 modern dramas involving 50,000 spectators.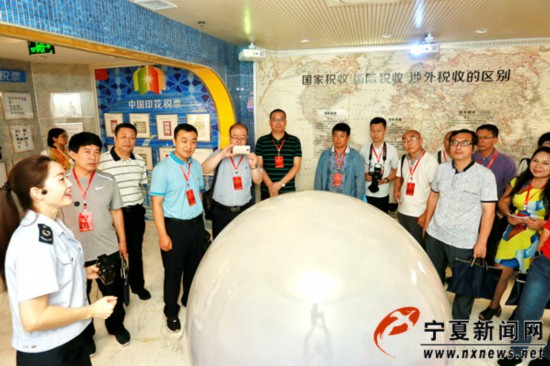 The delegation visits Ningxia Taxation Cultural Center. [Photo/ nxnews.net]