President says a better use of modern technology must also be included.
President Xi Jinping has urged efforts to unswervingly advance reform of the country's judicial system as it is crucial to the country's rule of law and the entire governance system.
Xi, also general secretary of the Communist Party of China Central Committee, made the remark in a written instruction conveyed to a national conference on judicial system reform, held on July 10 in Guiyang, capital of Guizhou province.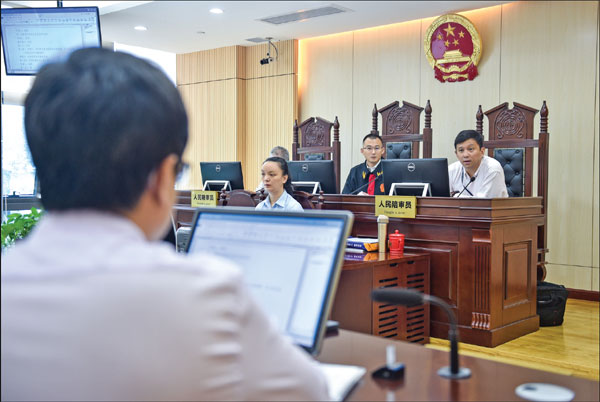 Further efforts will be made to advance the trial-centered reform of criminal procedure, in addition to reforms in public security, state security and judicial administration, according to a recent written instruction from President Xi Jinping. Mao Siqian / Xinhua
In the instruction, Xi said authorities have made great efforts in the past five years in tackling difficult issues and have managed to achieve some reforms that were long planned and talked about a great deal in the past.
Xi also stressed that China should follow the path of the socialist rule of law with Chinese characteristics, and urged that modern technology be better introduced as part of judicial reform.
He called for further efforts to advance the trial-centered reform of criminal procedure as well as reforms in public security, State security and judicial administration.
Meng Jianzhu, head of the Commission for Political and Legal Affairs of the CPC Central Committee, conveyed Xi's instructions and made a speech at the conference.
Participants agreed to make use of big data and artificial intelligence technology in advancing reform.
Since the 18th CPC National Congress in late 2012, a number of judicial reforms have been conducted.
Cheng Lei, an associate law professor at Renmin University of China, says that a notable reform is to limit the quota of judges and increase their responsibilities to improve the quality of case hearings.
In the past few years, courts nationwide have introduced a quota for top judges to ensure they receive assistance that frees them from administrative and research work, and helps them to produce impartial, well-considered judgments.
Before the reform, the country had 210,000 judges, but now it has dropped to 120,000, according to the top court. The rest have become legal assistants and court clerks.
On the adoption of new technologies, Cheng says reform should deal with how to integrate data from different courts and improve data accuracy.
"How to use the technology to better store and protect judicial information is also important," he says.
Xinhua contributed to this story.