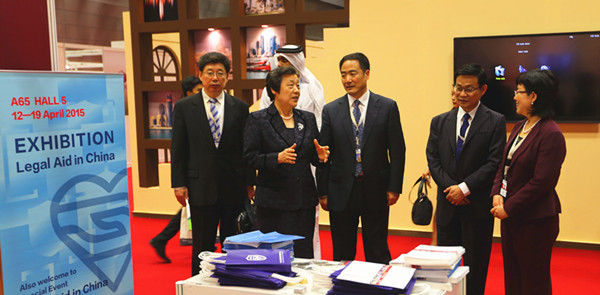 Chinese Justice Minister Wu Aiying (second left) at the Chinese legal aid display booth in Doha.
In conjunction with the 13th United Nations Congress on Crime Prevention and Criminal Justice, which ran April 12 - 19, in the city of Doha, capital of Qatar, China put on an exhibition to explain its legal, and to show how it has developed and what it has achieved in legal aid.
Head of the Chinese delegation was Wu Aiying, the justice minister, who visited the exhibition, which also saw visits by Yury Fedotov, the executive director of the UN office on drugs and crime, China's ambassador to Qatar, Gao Youzhen, the Indian justice minister, the Slovak justice minister, and 600 delegates from 50 countries and international organizations, who spoke highly of the achievements of China's legal aid.
Wu explained that the exhibition is China's first at this type of gathering on its activities in legal aid and that it shows the government's responsibility, respect and protection of human rights, international exchanges and cooperation in this area.
Fedotov also praised the exhibition for its content and form and how it gave the participants a greater understanding of China's legal aid system and added that the UN office on drugs and crime will continue to cooperate with China's Justice Ministry and promote the development of legal aid.