Courtyard hotpot festival begins in Wenjiang
( chinadaily.com.cn )
Updated: 2019-01-03
A courtyard hotpot festival, part of Chengdu Hotpot Culture Month, recently began in Wenjiang district, Chengdu, Sichuan province.
Chengdu hotpot is popular across the country and is known for its spicy and hot flavor. It is regarded as one of the city's must-eat delicacies.
In order to give both locals and visitors a better understanding of Wenjiang, the district has added a unique feature to the hotpot event – courtyards.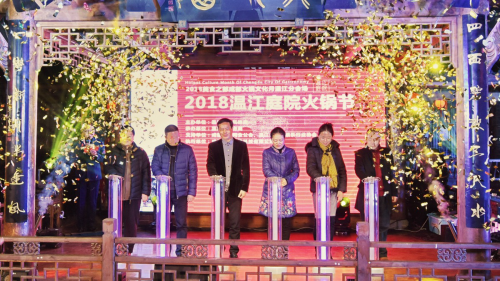 A courtyard hotpot festival, part of Chengdu Hotpot Culture Month, begins in Wenjiang. [Photo/china.com]
Traditional residential architecture in Wenjiang commonly features courtyard houses decorated with carved stones, clay figurines, wood art, pavilions, rockeries, and pools.
The district wanted to give visitors a unique hotpot experience by offering hotpot at courtyard houses.
Six special travel routes were released during the event, encompassing local courtyard houses, scenic spots, delicacies, and hotpot.
Three courtyard-themed routes were also released, allowing visitors to live and eat at a courtyard house.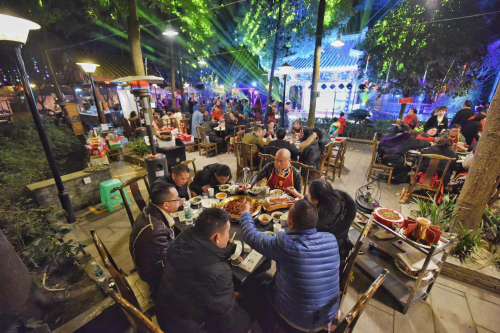 People eat hotpot at a courtyard house in Wenjiang. [Photo/china.com]
Some industrial data focusing on Wenjiang-flavored Chengdu hotpot was released, showing that Wenjiang's hotpot industry is developing rapidly, particularly the middle and downstream businesses.
The Wenjiang hotpot industry focuses on offering raw ingredients and dipping sauce and owns more than 600 hotpot brands across the country. Its brands, such as Liupo, Qipo, Wutou, and Longteng, have a total of over 2,000 restaurants, and have tapped into dozens of overseas markets, including the United States, Japan, Australia, Singapore, and Malaysia.
Statistics showed that Liupo chili powder was the online best-selling chili powder during the Double Eleven shopping gala, with an increase of over 3,000 percent in sales. Yangmin hotpot condiments have an over 70 percent market share in Yunnan, Guizhou, and Sichuan.
The Haike fully-automatic hotpot condiment frying pan accounted for 45 percent of the country's market, and served about 200 hotpot brands including Haidilao and Xiaolongkan.
Wenjiang is helping Chengdu develop into a city of delicacies and making Chengdu hotpot famous across the world, said organizers of the event.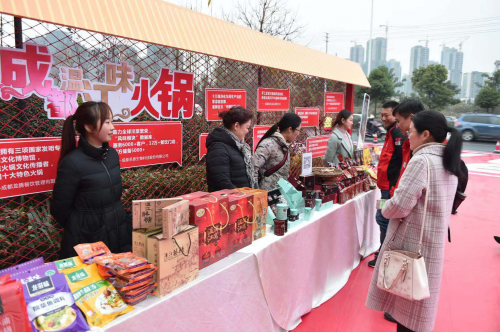 Wenjiang brands display their hotpot condiments. [Photo/china.com]