Wenjiang promotes healthy development of private economy
( chinadaily.com.cn )
Updated: 2018-11-29
Chengdu held a private economy health development conference on Nov 24, mapping out the direction for further healthy development of the private economy and stimulating the enthusiasm of Wenjiang's private enterprises for innovation and entrepreneurship.
In recent years, Chengdu's Wenjiang district has issued 36 new industrial policies, 30 new personnel policies and 25 scientific and technological achievements transformation policies to enhance policy support.
It has accelerated the implementation of a number of reforms such as tax reduction and fee reduction to optimize the business environment.
The measures have certainly aided the development of private economy. However, faced with the difficulty of financing and the opportunity of transformation, Wenjiang still needs to explore how to help private enterprises move past obstacles in a practical way.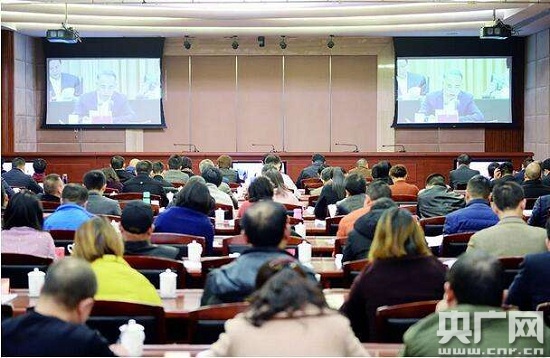 Representatives attend the Wenjiang branch meeting of the private economy health development conference on Nov 24. [Photo/cnr.cn]
Guo Yewei, head of Chengdu Daxan Innovative Medical Tech Co, said that over the last few years, Wenjiang has insisted on reserving the best quality resources for the best enterprises, and giving the noblest courtesies to the best personnel. With a better business environment, it can be said that Wenjiang is the best city for investment and the most suitable soil for entrepreneurship.
Guo hopes that after the conference, Wenjiang will introduce detailed policies as soon as possible to accelerate the pilot reform of the medical device registration system, and create a better environment for the development of the private economy.
Zhou Shanggao, chairman of the Wenjiang district federation of industry and commerce, said that the federation will deepen its service functions for enterprises and integrate financing, marketing planning and legal services to provide low-cost, all-factor, comprehensive and systematic one-stop services for Wenjiang's private enterprises, especially the small and micro enterprises.
Zhou added that they will strive to create a sound environment for the development of enterprises and write a new chapter in the history of the high-quality development of the private economy in the new era.