Second crape myrtle tourism festival commences in Wenjiang
( chinadaily.com.cn )
Updated: 2018-08-02
The opening ceremony of the second Wenjiang leisure agriculture and rural tourism festival under the theme of crape myrtle opened in Tuqiao village of Hesheng town in Wenjiang on July 20.
The festival is set to last for three months and has prepared a boutique tour of crape myrtle field, agricultural museum, tree house homestay and so on for tourists to experience west Sichuan folk culture and cuisine of Wenjiang.
Apart from the various musical performances presented by domestic and international performers, the biggest highlight of the ceremony was the stage designed by Sichuan Zhongxingyuan Cultural Media Company.
The company focuses on large-scale evening activity planning and this was the second time for them to take charge of the stage design for the tourism festival.
According to He Changlin, general inspector of the stage design, his team struggled to present a stage different from the first festival and decided to use firework show to set off the musical performances.
The stage adapted about 200 LED lights, 170 of which were domestic brands, and three LED screens which revealed an idea of high efficiency, energy saving and environmental protection.
The festival not only provided a stage for performers, but also allowed citizens to appreciate the essence of Chinese culture and understand Chinese humanistic culture deeply, and revitalize the rural area development.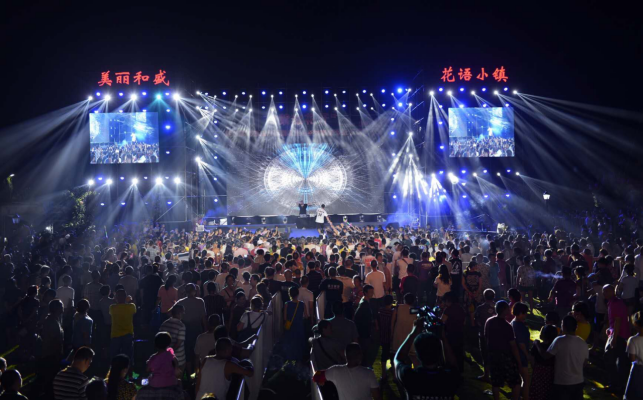 Mesmerizing lighting sets off the musical performances. [Photo/newssc.org]