Wenjiang to kick off leisure agriculture and rural tourism festival
( chinadaily.com.cn )
Updated: 2018-07-19
With the crape myrtle's flower season approaching, the second Chengdu Wenjiang leisure agriculture and rural tourism festival is set to kick off in a crape myrtle countryside complex on July 20, and it will last until October.
The complex is located in Tuqiao village of Hesheng town in Wenjiang district and covers an area of over 33 hectares. Apart from the complex, there are more crape myrtle planting bases distributed around Tuqiao village.
The complex has been upgraded and transformed from the previous year. Rural tourism facilities including the cultural and creative base, agricultural museum, fishing spot, tree house, and tea cafe have been completed and have started attracting tourists from all across the nation.
Besides the sea of crape myrtles, intangible culture performances and photography and painting exhibition, the complex also has abundant resources of delicacies and specialties for the pleasure of tourists.
During the festival, tourists can not only experience fire work shows, music programs and traditional folklore performances, but also enjoy the beautiful view of crape myrtles from the window of tree house home stay.
The festival will also elect advanced figures in tourism business and rural industrial restructuring to further promote regional rural tourism upgrading, and make Tuqiao a new landmark of Wenjiang district.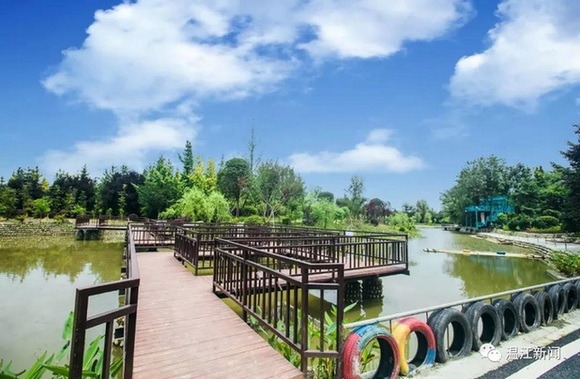 Winding corridor over the stream in crape myrtle countryside complex. [Photo/wenjiang.gov.cn]