Green tourism construction of Xingfu village in Wenjiang
( chinadaily.com.cn )
Updated: 2018-07-12
Just ten years ago Xingfu village of Wanchun town in Wenjiang district was still suffering poverty, inconvenient transportation and poor infrastructure. The villagers lived a life opposite to the village's name, Xingfu, which means happiness in Chinese.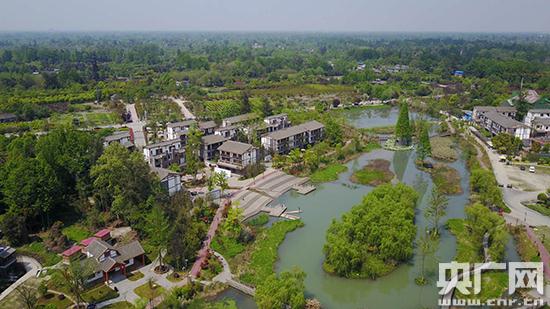 An aerial view of Xingfu village [Photo/cnr.cn]
Thanks to the rural property right system reform in 2008, the situation has changed. Nowadays, the villagers collectively run a national 4A scenic spot "Xingfu Tianyuan" (countryside of happiness) and have their own hostels, homestays and restaurants.
The quality of life in the village has been improved significantly. Villas can be found between high and low flower fields, giving the village an idyllic beauty.
Guo Jianping, secretary of the Party general branch in Xingfu village, still remembers how he persuaded 224 families in the village to start the land rearrangement project. They went on to raise 184 million yuan ($27.8 million) of start-up funding on their own.
The project transformed the adobe buildings into west Sichuan style villas. All the villagers were involved in the construction of their houses and thus were very satisfied with the outcome, said Guo.
Guo also persuaded the villagers to introduce a property management company and guaranteed a professional and high level property management service when the project was finished.