Wenjiang hopes to draw tourists with local flowers
( chinadaily.com.cn )
Updated: 2018-05-02
Crape myrtle flowers have long been grown around Wenjiang district in Chengdu, capital of Sichuan province.
Now, the district's Tuqiao village plans to exploit its beautiful scenery by developing a tourism industry based on the flowers, with the aim of boosting its rural economy.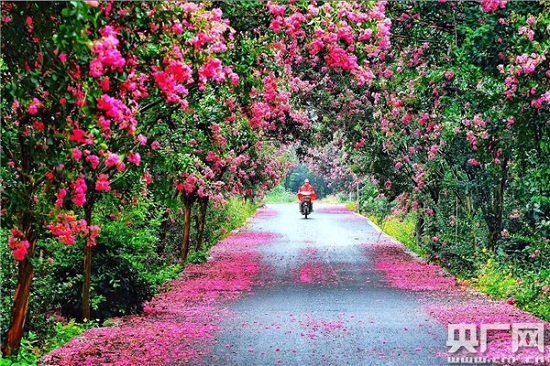 Crape myrtle flowers pictured on Yingbin Road in Heshen town. [Photo/cnr. cn]
The village also plans to develop its farmland, forests and roads, while promoting crape myrtle flowers in its other industries such as culture, health and tourism.
In a further effort to draw people to the village, Tuqiao Crape Myrtle Music Festival was recently held, attracting nearly 10,000 tourists who also got to enjoy activities such as photography, yoga, tai chi and microfilms.
The village has also developed several local products to promote its brand, including locally-produced crape myrtle wine and cake.
Over time, the village aims to become known as a relaxing destination for young city dwellers to escape to.