Chengdu Medical City to shine at 2017 Chengdu GIEF
( chinadaily.com.cn )
Updated: 2017-05-10
The 2017 Chengdu Global Innovation and Entrepreneurship Fair (GIEF) will open in Chengdu from May 10-12.
Chengdu Medical City, in the Wenjiang district, will join the exhibition to present its achievements in medical integration. In 2015, Wenjiang began the process of integrating medical science, treatment and production.
Chengdu Medical City's 300-square-meter exhibit will employ a blue and green color scheme, highlighting Wenjiang's environment and its medical industry development.
The exhibit will be separated into four areas to present Wenjiang's urban construction, Chengdu Medical City, Wenjiang's science and technology innovations and the district's enterprises.
The 2017 West China Biological Medicine Conference will also be held in Chengdu on May 12. Focusing on the innovation and development of traditional Chinese medicine (TCM), the conference will host medical specialists from China and abroad.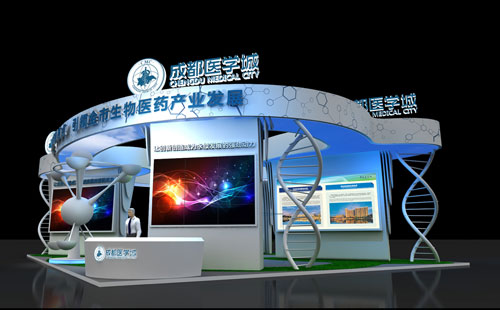 Concept sketch of the Chengdu Medical City exhibit for the 2017 Chengdu Global Innovation and Entrepreneurship Fair, which is scheduled to open from May 10-12 in Chengdu. [Photo provided to chinadaily.com.cn]
Edited by Zachary Dye